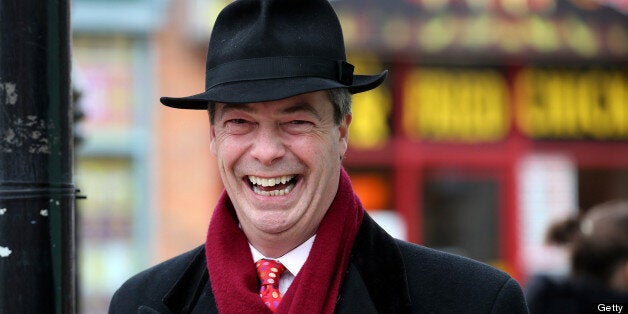 Nigel Farage has been preemptively banned from attending the Conservative Party conference in Manchester at the end of September.
On Monday The Daily Telegraph reported that the Ukip leader will not be granted a security pass which would allow him to enter to so-called secure zone in the centre of the city.
However a Ukip spokesperson told The Huffington Post UK that Farage had not actually applied for a security pass - nor did he intend to.
"They [the Conservatives] are utterly frit, it's funny to watch them going into paroxyms of fear," the spokesperson said. "We had no intention of going into the secure zone. We knew full well they would never let Nigel in."
Farage is due to address a fringe event at the conference hosted by the Thatcherite Bruges Group titled: "Conservatives and Ukip: allies or enemies?"
The event, held in Manchester Town Hall, will be the must-attend event at conference. As the venue is outside of the conference secure zone, Farage will not need a security pass to attend the event - or any others outside the ring of steel.
Farage told The Guardian: "I suppose my presence will be a bit controversial, but whatever happens I am sure most people in the audiences will agree with my policy positions."
It was recently suggested that at least eight Tory MPs have held talks with Ukip about defecting from the Conservatives and the event could be seen as a further attempt to woo eurosceptic backbenchers.
And some Tories, including Mid Bedfordshire's Nadine Dorries have floated the idea of allowing joint Conservative-Ukip candidates in 2015 in order to stop the Tories haemorrhaging support.
David Cameron is unlikely to have relished the idea of Farage marauding through the conference centre, drawing the media's attention away from the Conservative Party's agenda and flirting with his backbenchers.
Unfortunately for the prime minister he is not able to ban the Ukip leader from the entire city.