Campaigners have bid "good riddance" to the Home Office's controversial illegal immigration van after it left the streets of London after just one week.
Councillors representing the multi-ethnic London boroughs it was driven through also expressed alarm at the heavy-handed approach.
A Home Office spokesman confirmed the week-long pilot scheme ended on Sunday, and said no timescale had been set for it to be evaluated.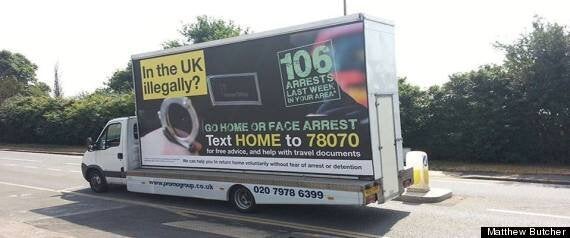 The controversial vans have left the streets
The message on the vans reads:
In the UK illegally? Go home or face arrest. Text HOME to 78070 for free advice, and help with travel documents. We can help you return home voluntarily without fear of arrest or detention.
Jan Brulc, of the Migrants' Rights Network, said the van had been more of a "pre-election message to voters" than a genuine attempt to help migrants.
"I wouldn't be surprised if this was quietly swept under the carpet," he told HuffPost UK.
"I can hardly imagine a more counter-productive campaign".
Asked whether he thought we had seen the last of the 'racist van', he added: "Yes. And good riddance."
A Home Office spokesman said no decision had been taken about whether the tactic would be rolled out to other areas.
But the chances look remote after Business Secretary Vince Cable said it was "stupid and offensive".
Despite Downing Street claims the van is "already working," no figures are yet available, the Home Office said.
"In due course, we will make a decision," the spokesman added.
Sarah Teather, Lib Dem MP for Brent Central in London, said: "I am extremely sceptical that these adverts are having any effect other than to annoy and upset local residents.
"The reaction over the last week would certainly suggest that Conservative Ministers are among a very small minority who think the vans are a good idea.
"I await the detailed statistics and analysis of the trials which backs up No 10's claim with bated breath. But I dare say that this is a desperate attempt to try and save face in the face of overwhelming public hostility."
Related