What Laura Trott lacks in stature she makes up with in frankness. Engaging and chatty, she is as energetic on the phone as she is on the track during our conversation.
In the year that has elapsed since the London 2012 hegemony, Team GB heroes have rocketed into the limelight, offering banal soundbites and cautiously protecting their sudden role model status.
Trott is an exception. She is flattered to be regarded as a role model ("I get messages like 'My little girl wants to be you'"), but unlike her British peers she is not averse to candour and is brimming with opinions.
Saturday marked a year since Danny Boyle's awe-inspiring opening ceremony began the Olympics. The Anniversary Games did their utmost to rekindle the nostalgia but it came naturally to overnight heroine Trott.
"I can't believe it's been a year, it's gone really fast," she exclaims. "To start with [the adulation] it was pretty crazy, people pulling me left right and centre but now it's weird, people know me and stuff. I still can't believe it's a year." Double delight: Trott was one of Team GB's great success stories at London 2012
"Being a cyclist, you're not supposed to peak until you're 26," she adds, baffled.
Born prematurely with a collapsed lung and later diagnosed with asthma, doctors advised Trott's parents sport would regulate her breathing. She enjoyed trampolining and swimming as a child before she fell in love with cycling.
"I kind of got into track cycling when I was eight but never believed I could achieve anything until I was 14 and winning national races," she says. "My sister [road racing cyclist Emma] always used to get wound up by the fact that I'd never do any of the training my coach set me, I'd see my friends, I'd just do what I want when I wanted. It just came naturally to me whereas she had to really try hard."
"I was pretty relaxed," she admits. "I sort of knew what to expect because we had been around the Olympic Park a couple of months before, so it wasn't like 'Oh God, that's the velodrome,' so I could actually enjoy it.
"I made sure I could take everything in, as well. Normally I walk into the velodrome with my headphones on, but I took them off so I could hear the crowd."
What about the pressure of preceding Pendleton and Hoy, who boasted six golds between them?
"I wasn't really aware of it because I just wanted to win mine and then see Chris Hoy get the record obviously. I guess it was busy on the track but I just wanted to win mine! Especially that stupid 500 metres [time trial], because I left it down to the last race, didn't I? I was more just in my zone trying to get that finished."
Just 21 and already a double Olympic gold-medallist, Trott could feasibly surpass Sir Chris Hoy's gold medal haul of six. Fitness and desire permitting, the Harlow-born cyclist will be 28 at the 2020 Games in Istanbul, Tokyo, or Madrid.
She genuinely cares about cycling and is baffled at why it was marginalised at London 2012 in comparison to the never-ending swimming events.
There were 42 races held in the aquarium compared to the measly 10 track events. Trott, who rode to gold in the omnium, is concerned she might not have the opportunity to compete in it at Rio and has already appealed to the UCI over its possible omission.
"It does annoy me, that," she says. "They need to stop chopping and changing the evnts as well because you can't have a focus. At the minute we're trying to qualify for the World Championships, so we have to ride two omnium events in the summer. If they pulled that out of the Games it would be pointless."
Success in cycling comes with a price. However illogical it is for grander sports such as football or tennis not to be stigmatised by doping, cycling continues to be synonymous with performance-enhancing drugs. Victories are greeted with not just applause but suspicion.
Trott is not the subject of such scrutiny due to her preference for track racing. A product of British cycling's extraordinary rise under Sir Dave Brailsford over the last five years, she is compelled to defend a sport reeling from the damage Lance Armstrong has inflicted.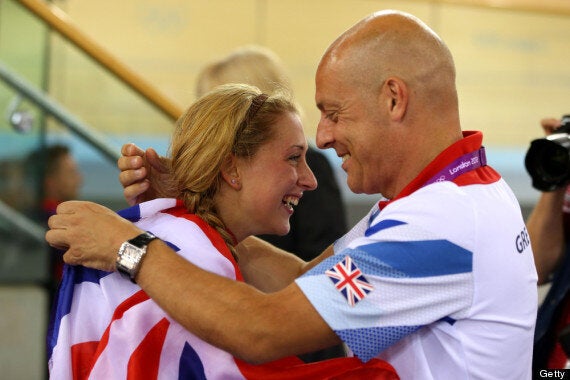 Trott is congratulated by Brailsford after winning her omnium gold
"Everything that happened at the Tour de France and what got thrown at Chris Froome was just out of order," she states. "I don't think you can say the minute somebody puts a good time on the board, or someone has a good race, it should be 'Is he on drugs?' I don't think it should be questioned.
"What happened with Lance was a completely different era. I never looked up to him, I looked up to Victoria Pendleton and Chris Hoy.
"But I'm not stupid, I know it goes on. I actually found out the other day one of the girl's I competed against at the Junior World Championships also got a doping ban.
"That side of things annoys me a lot. I'd hate it if somebody was to beat me, say I got silver at the Games and they got gold, it's not just their life they're ruining, they've then ruined the experiences and everything else I could have had from that."
Trott is also sceptical about the women's Tour de France petition which has recently gained momentum. She admits it is "important" there is a female equivalent but opines it should not come at the expense of other races.
"We have loyal sponsors who sponsor the likes of the Giro and those races should be kept in," she asserts
"So start with maybe a one-day race and finish it in Paris with a road race, or finish it up the Alpe d'Huez and make that version shorter."
"People forget the men's Tour de France was never as huge as what it is now. It started small and has grown into what it is. That's what we need to do: start it small and grow it, not just go BAM! with a three-week stage race replacing other races." Trott celebrates gold with Dani King and Joanna Roswell
Monday marks a year since Trott, Dani King and Joanna Roswell set a new world record to win the Olympic team pursuit. She has shared a pint with Prince Harry, visited Buckingham Palace and enjoyed the hospitality of Wimbledon's royal box, but what's been the standout moment since?
"Some random man gave me a chicken not that long ago, two weeks ago, in fact. Which I thought was a bit random, just at a road race. He works on a market where he sells chickens, so he gave me a chicken!"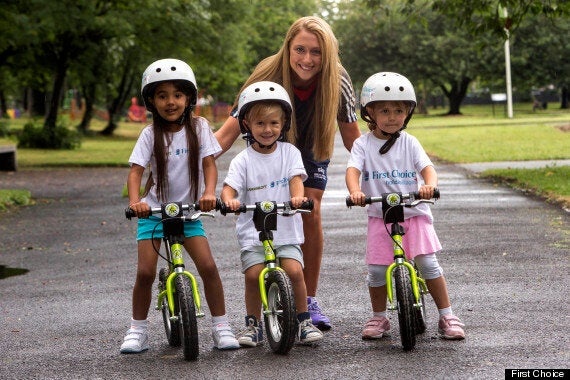 Laura Trott has teamed up with First Choice to launch the innovative Balanceability programme at its Holiday Village Majorca. The course aims to help children as young as 2 ½ to learn to ride a bike whilst on holiday. For more information visit www.firstchoice.co.uk/balanceability