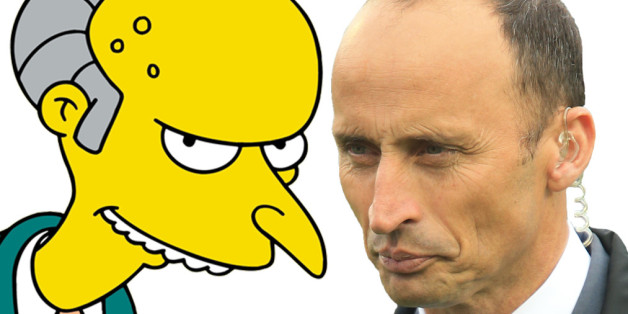 Prior to the tea break on day two of the Old Trafford Ashes Test, there was some fine entertainment in Sky Sports' commentary box as Shane Warne ribbed Nasser Hussain about his resemblance to The Simpsons' Monty Burns.
Hussain, previously mocked for his "three-mile radius" nose by former Australian wicket keeper Ian Healey and his "kiddy pads" by Healey's successor, Adam Gilchrist, and Warne, was subjected to more sledging away from the crease.
Former teammate Michael Atherton, ending his commentary stint, introduced "Shane Warne and Montgomery Burns" to the Sky viewers.
Warne capitalised on Hussain's nickname and initially struggled to concentrate on the cricket. His concentration was completely lost when colleague Ian Ward got in on the act, flashing a split picture of Hussain and Burns on his iPhone.
But who said it? Hussain or Burns?