Not even death can stop Andy Warhol from causing mischief with a camera.
The artist may have died in 1987, but his work has never been more popular or valuable. And so to celebrate what would be his 85th birthday, the Andy Warhol Museum has put the iconic pop artist back up on screen - for 24 hours a day.
Well, his grave at least.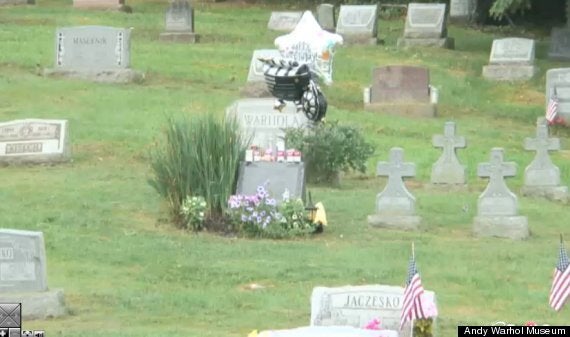 Titled 'Figment', the work references a quote Warhol once made about his own plans for the afterlife:
I never understood why when you died, you didn't just vanish, and everything could just keep going on the way it was only you just wouldn't be there. I always thought I'd like my own tombstone to be blank. No epitaph and no name. Well, actually, I'd like it to say "figment."
Warhol museum director Eric Shiner said the web cam "will give Warhol the pleasure of knowing that he is still plugged in and turned on over 25 years after his death".
Warhol is buried at St. John the Baptist Byzantine Catholic Cemetery in Pittsburgh. Figment is not the first art project to directly reference and incorporate his final resting place, however. And according to the museum, many still make the trip to pay their respects:
"Hundreds of devotees make the pilgrimage yearly to Warhol's resting place. Often these visitors leave mementos at the site, including such popular culture items as Campbell's Soup cans and Coca-Cola bottles."