Ever thought Grammy Award-winning British folk band Mumford & Sons take themselves a bit too seriously?
Over the years a lot of critics have expressed exactly that sentiment, but now the band have hit back with a brilliant video, spoofing themselves for their new single 'Hopeless Wanderer'.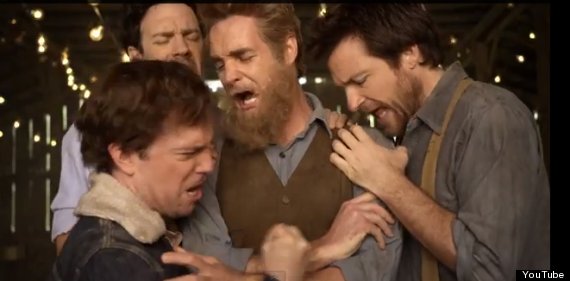 Enlisting Hollywood actors - Jason Bateman, Ed Helms, Jason Sudeikis and Will Forte - to play them, Mumford poke fun at their often serious and emotional stage persona.
Dressed in true folky garb, the actors hump their cellos, hug and even break down in tears in the promo vid.
The video could well be a retort to musical comedians Key Of Awesome who produced a video for YouTube's Comedy Week that took the mickey (quite nicely) out of Marcus Mumford and his band of folk chums.
Watch it above and let us know if you think Mumford have proven they actually do have a sense of humour.

LIKE US ON FACEBOOK | FOLLOW US ON TWITTER