Controversy has arisen again in the Ashes, with reports claiming both England and Australia batsmen are under investigation for allegedly using a silicone-based tape to hide edges from showing on the maligned HotSpot technology.
Channel Nine say Kevin Pietersen's dismissal on Wednesday has prompted the probe by the International Cricket Council (ICC).
The ICC's new general manager of cricket, Geoff Allardice, has travelled to Durham - where England and Australia are training ahead of the fourth Test at Chester-le-Street - to address the issue.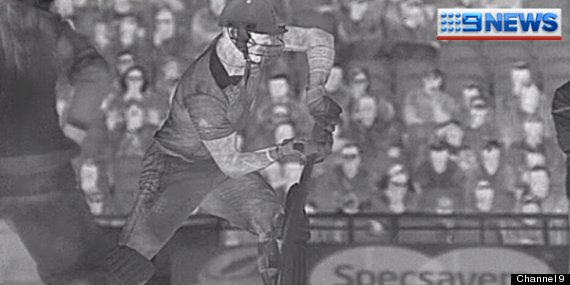 HotSpot showed no edge for Pietersen's dismissal
The third Test at Old Trafford featured two flashpoints which highlighted the flawed technology - used to highlight whether a batsman has made contact with the ball.
Australia's Steven Smith was given not out in the first innings after an England appeal, but captain Alastair Cook decided to use the decision review system (DRS). HotSpot failed to show any contact, even though a noise was clearly heard as the ball passed Smith's bat. Snickometer later appeared to suggest the Australian had edged to England wicketkeeper Matt Prior.
Similarly, Pietersen reviewed his dismissal in the second innings after being given out for feathering the ball through to Brad Haddin, and though HotSpot showed no contact, he still had to walk on umpire's call.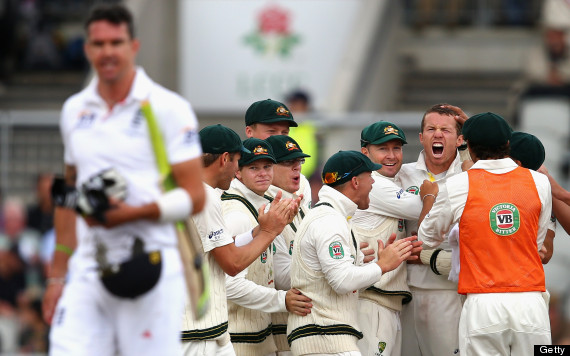 Pietersen walks at Old Trafford on Wednesday
The caveat for players using tape to conceal thin edges is inside edges would not show on lbw decisions. However Channel Nine suggested the tape may only have been applied to the outside of the bat.
#BREAKING: Allegations cricketers have been using silicon tape on bats so edges don't show up on hot spot. #Ashespic.twitter.com/c0gRe4MxAJ

— Nine News Adelaide (@9NewsAdel) August 7, 2013
Jonathan Trott was inexplicably given out lbw by the third umpire in the first Test at Trent Bridge, despite batting the ball onto his pad.
Perhaps, as the designer of Hotspot has said on many occasions, it is not perfect...

— Jonathan Agnew (@Aggerscricket) August 7, 2013
HotSpot the most flawed thermal imaging system since the Predator failed to detect a mud-covered Arnold Schwarzenegger

— Ali Martin (@Cricket_Ali) August 5, 2013