If BBC3's Badults sit somewhere between the 'Inbetweeners' and 'Men Behaving Badly' age-wise, the three chaps are quick to point out where they differ.
"We're not as grubby as either of those two shows," says Tom. "We're a bit sweeter, more innocent."
"We don't ever talk about sex, really, that's not one of our goals. That was the pursuit of both those shows."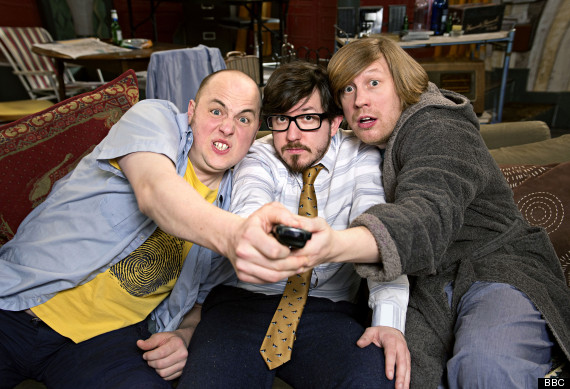 The Badults are Tom Parry, Matthew Crosby and Ben Clark, just trying to get by
So what is the pursuit of the Badults?
"We just want to get from one day to the next. Ben's goal is to not do anything, Tom's goal is to do everything, and Matthew's goal is to get by, not get caught out doing nothing."
Tom Parry, Matthew Crosby and Ben Clark are, collectively, Pappy's, whose live sketch show has survived a variety of different forms since they merged their talents in 2004.
Were they friends previously, or was there a Svengali-like figure involved in bringing them together, reality-TV-style?
"Yes, previously friends," says Tom. "Not any more," adds Ben." I should add we are huddled around a clubroom table in central London, and they finish each other's sentences off so naturally, it's almost impossible to tell who's saying what, but I'll try...
"There was no Svengali. Had there been, he wouldn't have picked people who looked like us," adds Matthew happily.
Tom says, "Ben and I met when we were ten in Sunday school in Wolverhampton, then I went to university and met Matthew, and we did comedy together."
"We're both friends with Tom, and not with each other," the other two concur.
From their first shows in 2004, then at the Edinburgh Fringe for five years,through to getting their lucky break at the BBC, Pappy's have honed their act, which they describe as "basically an extension of our natural personas" - in sum, three lads trying to get by.
And the Badults' biggest struggles in life? All the usual, apparently...
"We've been working together for 10 years, and the more you grow up, adulthood, finance, responsibility, the more things get in the way of you hanging out with your mates," says Ben.
Does he mean women? Communal shake of the head.
"That's rarely a problem for us," they say as one.
'Badults' continues on BBC3 on Tuesdays at 10pm. You can catch the series so far on iPlayer. Pics below...