A Marmite advert has drawn widespread criticism and sparked hundreds of complaints from viewers after apparently mimicking an animal cruelty documentary.
The advert titled 'End Marmite Neglect' depicts a rescue team swooping into peoples' homes to save unwanted jars of the yeast extract condiment. The ad, voiced by BBC newsreader and journalist Michael Burke, also shows children's faces pixelated out during the 'light-hearted' TV spot.
Some 250 complaints were reportedly received by the Advertising Standards Authority following the first airing of the advert on Monday evening during Coronation Street on ITV1.
Viewers who complained claimed that the advert 'trivialised' the work of both animal and child protection charities, such as the RSPCA and NSPCC.
Marmite's website says. "We've launched an urgent appeal to prevent cruelty, alleviate suffering and promote kindness to all Marmite jars. Spread your support by donating a tweet, post or profile picture."
Marmite has also received complaints directly on their Facebook and YouTube pages, although, opinion between users seems to be divided with many puzzled by the complaints.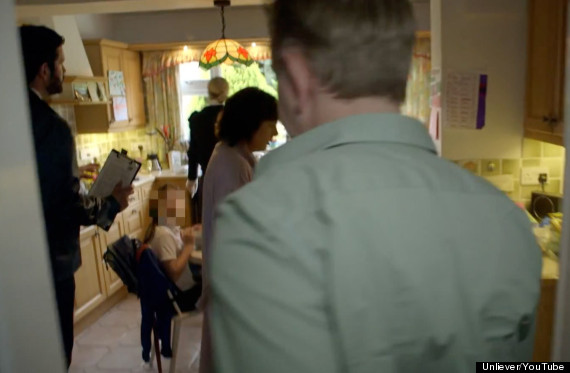 Scene from the Marmite advert shows a child's face pixelated out
One user, Charlie O'Malley, said: "As an animal lover and supporter of animal welfare charities, I think this is a great ad. Very amusing." While Anne Cluderay said: "Shame on you! What a horrible advert."
A spokeswoman for Marmite said it was "never [their] intention to cause offence".
"We have made every effort to ensure that this commercial entertains anyone who watches it," she continued.
"We believe we have created an unmistakably Marmite ad - people will either love it or hate it and they certainly won't forget it.
"We hope that everyone will watch and enjoy this commercial in the light-hearted way it was intended."
The RSPCA said: "We plan to talk to the makers of Marmite about how we can work together on animal welfare."
Peta, the animal rights campaigning group, added they welcomed the advert because it was "jarring enough to remind viewers of the hard job that animal law-enforcement officers have and may generate calls about real abuse of real animals, doing a world of good."
The ASA said that they would take action if the advert breached broadcasting rules but stressed the advert would not be banned at the moment.
Negative publicity however may force Unilever, the owners of the Marmite brand, to withdraw the advert voluntarily. It wouldn't be the first time a company withdrew an advert after viewer complaints. Hinze was forced withdraw their advert for Deli Mayo in 2008 after it showed two men kissing.