Sir Alex Ferguson had a knack for signing players who had impressed against Manchester United. Dwight Yorke ran riot against "the kids" in August 1995, Alan Smith's pugnacity earned Leeds a draw months before he moved to Old Trafford, Wayne Rooney briefly inspired a stunning Everton comeback the same year, Dimitar Berbatov had scored for both Bayer Leverkusen and Tottenham versus United, while Ferguson observed that not having to play against Robin van Persie "will make my team talks easier".
In Marouane Fellaini, David Moyes could be managing a player who impressed for him at Everton.
Appropriately though, Fellaini was also a constant thorn in Ferguson's side. He scored three times against the Reds - two of them in draws, another a winner - and was such a nuisance he was directly man-marshalled by Phil Jones in United's 2-0 February win.
But invariably Fellaini's impact came as a consequence of him playing the battering ram role. Moyes, whose Everton teams were short of silk but brimming with steel, exposed chinks in United's lightweight armour on a number of occasions. United, who had lost just twice at Goodison Park between 1992 and 2007, have won just once there in their last five visits. In four of those five visits, Fellaini bullied his opponents, scoring in two separate fixtures.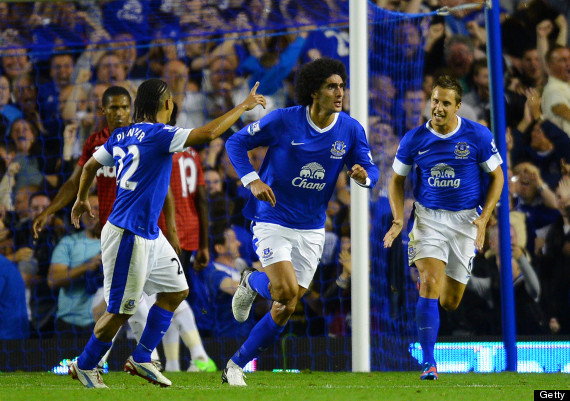 Fellaini celebrates his winner against United last August
Last year, Ferguson, bereft of Jonny Evans, Rio Ferdinand, Phil Jones and Chris Smalling, played Michael Carrick alongside Nemanja Vidić in defence. Inexplicably, Carrick was tasked with marking Fellaini at corners and was utterly powerless to prevent the Belgian from nodding in a powerful header. Fellaini might well have done likewise had one of the aforementioned four centre-backs been available that night - his 2008 equaliser came against Ferdinand, Vidić and Wes Brown.
Since the last days of Roy Keane United have become increasingly lightweight. Ferguson cultivated a new image seven years ago, bringing in Carrick as Keane's indirect replacement, and said as recently as last year United had never fielded a holding midfielder during his time in charge, which is just not true.
Keane played that role prominently during the tail-end of his Old Trafford career, but Ferguson was perhaps reminiscing about the marauding box-to-box Keane who made Yaya Touré look like a choo choo train compared to his express version. Fellaini scored in Everton's 4-4 draw at Old Trafford last year
Touré is one midfielder who regularly thrives in battles with United's midfield because they do not possess a player similar to him. He might be a superior footballer than Fellaini, but his impact will be restricted if the Belgian is fielded in midfield for next season's Mancunian derbies.
Moyes said late last term Fellaini's best position was as a defensive midfielder, a role he rarely played for Everton. Ignorant United fans believe they are getting a £23.5 million striker, when Fellaini was played out of position to complement Moyes' direct tactics and to occupy the role Tim Cahill had vacated. He scored 12 goals in the 2012-13 campaign.
But it was his indomitable display in the engaging goalless draw at Arsenal in April which highlighted where his prowess truly lies. Against the spiky Mikel Arteta and prickly Jack Wilshere, he guarded his back four superbly to illustrate why he is interesting not just United but Chelsea, who also require a midfield insurance policy. Fellaini enjoys his October 2008 leveller at Goodison
Should Fellaini swap Merseyside for Manchester he will become United's first central midfield signing in six years. Even with Carrick, the 25-year-old will be short of support and his distribution is nearly as much a liability as his infamous temper.
The midfield's broke, but Fellaini alone doesn't fix it.