Imagine a radio station that played obscure Scandinavian indie pop,hopeful wistful fuzz-punk and Andrew WK track after Andrew WK track after obscure instrumental Andrew WK piano improvisation.
It would clearly be the greatest radio station in the world. But do not despair: this radio station exists, courtesy of me (as of this afternoon), after music streaming site Rdio implemented a raft of new features designed to give customised 'stations' as much prominence as albums and artist pages.
Custom radio stations in music streaming services aren't new. They've always been a part of Rdio in some form, and Spotify has had them for more than a year. And while it's not available in the UK, Pandora radio has also built up a strong user base in the US on this very idea.
But Rdio says its new updates make stations more customisable, consistent and more deeply embedded in the service than ever. So what's new?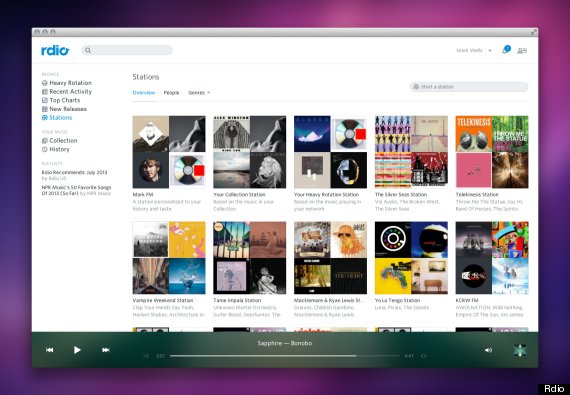 Rdio's new and improved stations can be generated around up to ten different 'types' of starting point. They include "You FM", a personalised station that uses taste profiling from The Echo Nest to build a playlist from your music collection, Facebook and Twitter profiles and Rdio votes. Stations built on individual songs, artists, sub-genres and other users can also be created, all drawing on Rdio's 20 million tracks. In a neat twist, all of the stations can also be subtly adjusted on a five-point scale from "Familiar" to "Adventurous", depending on how far from your usual back garden you want to drift.
The update - which will also be launched on Rdio's iOS and Android apps - features a redesigned radio player, with big album artwork and a frosted glass design reminiscent of iOS 7.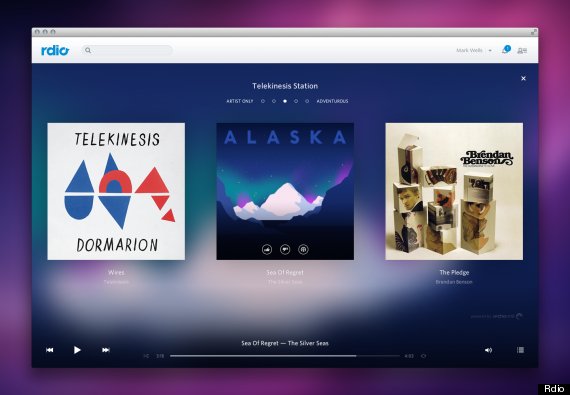 Rdio's move comes on the same day that Google's All Access streaming service launches in the UK. It also arrives weeks before Apple launches its Radio service built into iOS, and days after Spotify unveiled fresh updates to music discovery within its app.
The common theme? All of these services have millions of available tracks, but they all admit that finding something to listen to is still pretty difficult.
Chris Becherer, VP of product at Rdio, told HuffPost that the new features would help users cut through the clutter, admitting that just making 20 million tracks available at once can be "overwhelming".
"We want to pull in as much music discovery as we can," he told HuffPost. "We don't want people to feel like they have to go to 10 different things to find and consume music. We want to be that one-stop shop for everything."
"20 million [tracks] is an almost mind-boggling number, it's a little bit overwhelming. What we try to do is introduce some scarcity into the product… We're going to steer the entire product based on what types of users you want to follow."
"We want to keep you in a familiar garden, but keep introducing a few things here and there to keep that music discovery feel very fresh."