Ah ok, now we understand why Sylvester Stallone branded Bruce Willis 'greedy and lazy' - the actor reportedly demanded $4m for four days work on 'The Expendables 3'.
Bruce was apparently offered $3m for another stint as CIA agent Church in the action ensemble but reportedly threatened to quit if they didn't up his fee by another million - a tactic which backfired, as film bosses replaced him with (the presumably cheaper) Harrison Ford. Sly and Brucie with 'Expendables' co-star Arnold Schwarzenegger
A source told The Hollywood Reporter: "He said he'd drop out unless he got $4 million. A million dollars a day. Stallone and everybody else involved said no.
"I think [Willis] was pretty surprised he was replaced in 72 hours by Harrison Ford - a better actor, a much nicer person and a more interesting direction for the film," they added.
Sly - who has written the screenplay for the second sequel to the original 2010 film - hit back at his co-star on Twitter earlier this week.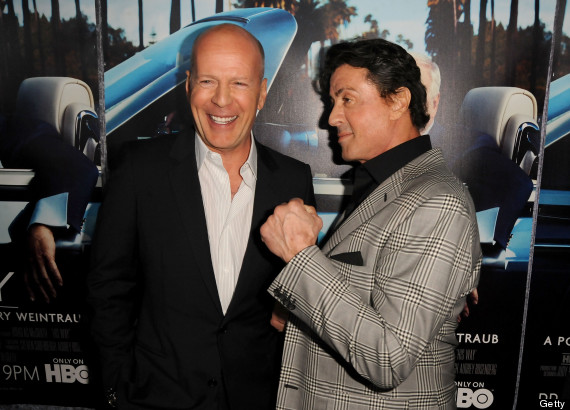 Bruce Willis and Sylvester Stallone
"WILLIS OUT... HARRISON FORD IN !!!! GREAT NEWS !!!!! Been waiting years for this!!!! " he wrote.
"GREEDY AND LAZY ...... A SURE FORMULA FOR CAREER FAILURE," he added.
We're crossing everything that Brucie will be discussing the developments in another of his trademark bizarre interviews very soon.

LIKE US ON FACEBOOK | FOLLOW US ON TWITTER