It's official, there is a third person in your relationship, and it has been identified as your growing gut. A new survey revealed that being in a couple is the top reason for weight gain among Brits (that's one victory for you, singletons).
What's more, the study also identified exactly how much weight you were likely to put on - around two-thirds of us were likely to pile on two stone.
However, although the findings have shown that being in a relationship supercedes 'traditional' reasons for putting on weight such as being unhappy, not exercising and eating a lot on holiday, these things are by no means exclusive, as you can still overeat for all of those reasons and still be in a couple.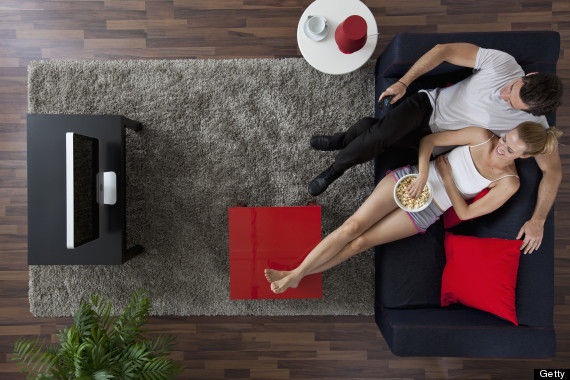 Out of the people polled, the majority (62%) admitted to putting on at least a stone during their relationships, while 72% believed that their partner has instead put on weight. Collectively, 66% were willing to admit that the blame is equal, with both parties putting on weight.
A key pitfall was revealed - women attempting to match their boyfriends or husbands in portion size. Over half of women admitted to this. Another - rather obvious one - is the tendency to nest, in other words, shunning the company of your friends, locking the doors and sitting in front of the TV with a DVD and big dinner.
Story continues below the slideshow from HuffPost US:
Three of the main activities couples said they did together also crucially involved food - eating out, eating in together and going to people's houses for dinner parties.
Over a quarter of couples did say they wished they could be healthier with their partner, but only a tenth actually expressed a willingness to cut down on food.
The findings aren't exactly a shock - as married couples famously put on weight post wedding, following months of pre-wedding diets. Research conducted earlier this year also confirmed that fat, indicating a direct correlation between increasing body mass index (BMI) and those who have gotten recently married.
Comfortability in a relationship was also revealed by the survey - 40% of us don't mind have a good old burp in front of the other, while 26% would be alright farting in front of the other two. Perhaps you may want to rethink the last one on curry night, however.