Not an hour after he hoisted his first piece of silverware as Manchester United manager, David Moyes imitated his predecessor perfectly and prickly in the post-match press conference.
Moyes was inevitably asked about Wayne Rooney, intent on leaving the Barclays Premier League champions to join Chelsea, and was forced to reemphasise the 27-year-old was "not for sale". But the thorn in his side continues to mar United's preparations for the season and Moyes plugged in the hairdryer.
Confusion reigns over why Rooney was declared unfit for Sunday's Community Shield victory against Wigan Athletic, but is available for England's Wednesday friendly with Scotland on Wednesday. Moyes was neither confused or amused.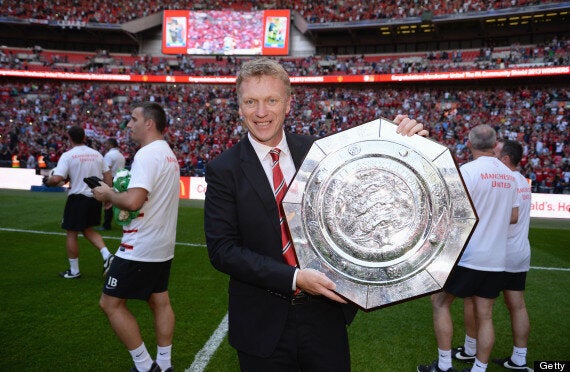 Moyes shows off his first trophy as United manager
"I don't see why you think that's confusing. Tell me why you think that's confusing," he demanded.
"It's a big game for England," replied the reporter.
"It's a big game for Scotland!" Moyes responded, to cackles of laughter, a la Ferguson. "You don't think I'm gonna send England a fit player, do you?" he joked.
"Wayne has trained and some of you might not like hearing this, but I didn't fall out with Wayne. Some of youse wrote complete untruths. Wayne trained with the reserves because it was at his asking. And in case you're wondering he played as a floating player [a forward who plays for whichever training team is in possession] so that he didn't get injured.
Rooney continues to be a problem for Moyes
"So anybody who wrote anything else is misleading the readers."
When it was suggested Moyes was becoming weary talking about Rooney, he interjected.
"I'm quite enjoying talking about it because I'm hearing so many of you getting it wrong. I know most of you and I think to myself, you're a bit cleverer than that. But some of you aren't acting that way at the moment.
"I want him to join up [with England]. He's not ready, you'll probably see that in the game. He'll probably play a chunk of the game but he's had no football.
"He had 45 minutes in a friendly against Real Betis. Apart from that, he's had no match action so you probably wouldn't expect somebody in that condition to be playing for a long period. He wasn't ready for today's game."
The Scot was happier to purr about Robin van Persie's latest double. Denis Law represented United amongst the dignitaries and it was appropriate the Dutchman should pay homage to the king with an immaculate header.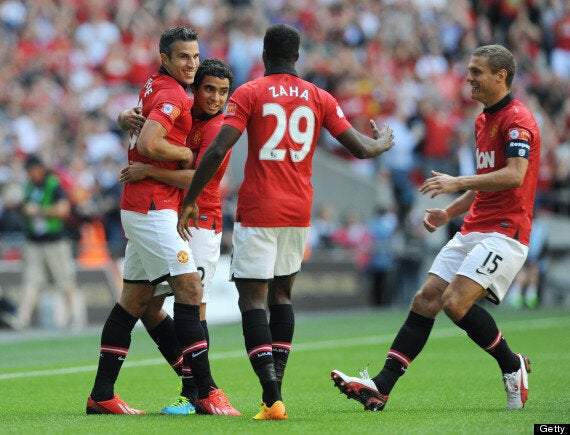 Van Persie started the season superbly
"It's a great header. Sort of 16 yards on the angle, into the side-netting," Moyes beamed. "Maybe he might not be renowned for that type of goal but it was a brilliantly guided header from a long way out.
"He's been easy to work with, he's taken on everything, he's been really receptive and helpful." It was as much a glowing reference for Van Persie as it was damning for Rooney.
United remain reliant on the Dutchman and are still yet to reinforce their title-winning squad under Moyes, who preached caution when asked whether the club were making progress with targets.
"Closer. We are moving forward," he said reticently. "If we don't, I'm happy to go with what we've got."
He harbours no regrets over the club's public and fruitless pursuit of Barcelona's Cesc Fàbregas ("I think Manchester United should go after the best players in the world.") but United yearn for a goalscoring midfielder a la Paul Scholes in his pomp to alleviate the pressure on Van Persie. Luka Modrić has emerged as an alternative and The Croat excelled at impersonating Scholes at Tottenham - albeit the puppeteering Scholes of 2006-2013, rather than the potent rascal of the Treble team.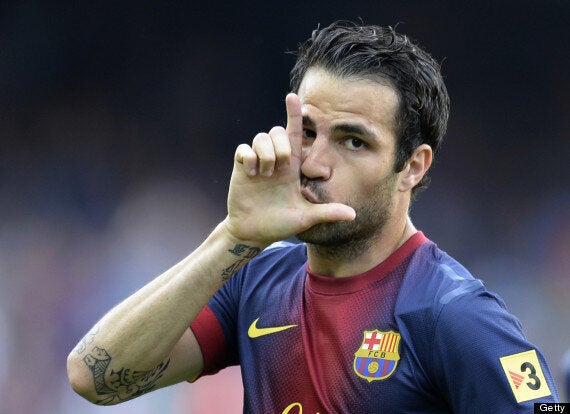 Fàbregas seems set to stay at Barcelona
Target Marouane Fellaini was sidelined for Everton's friendly with Real Betis with an infected cut on his foot, and Moyes was frustrated by insinuations it was because the Belgian was close to a United switch.
"Has he been [left out] or is he injured? See that might not be right what you're saying, isn't it?"
And the tetchiness continued when wantaway Wayne returned.
"Yeah, so why are you asking me again?" Moyes fumed when the topic returned to Rooney's desire to leave United. When it was stressed how much of a concern it must be to have a player who doesn't want to play for him, Moyes evaded the query.
"Yeah, I've heard your question."
But we've not heard the last from Rooney this transfer window.