SEE ALSO:
Gay rights supporters are believed to have repainted a zebra crossing in rainbow hues outside Stockholm's Russian embassy.
No one has claimed credit for the colourful protest as yet, but it is widely thought to be a response to Russia's treatment of LGBT individuals.
And there is growing uproar at the prospect of homosexual athletes and supporters facing arrest under the country's newly approved anti-gay legislation.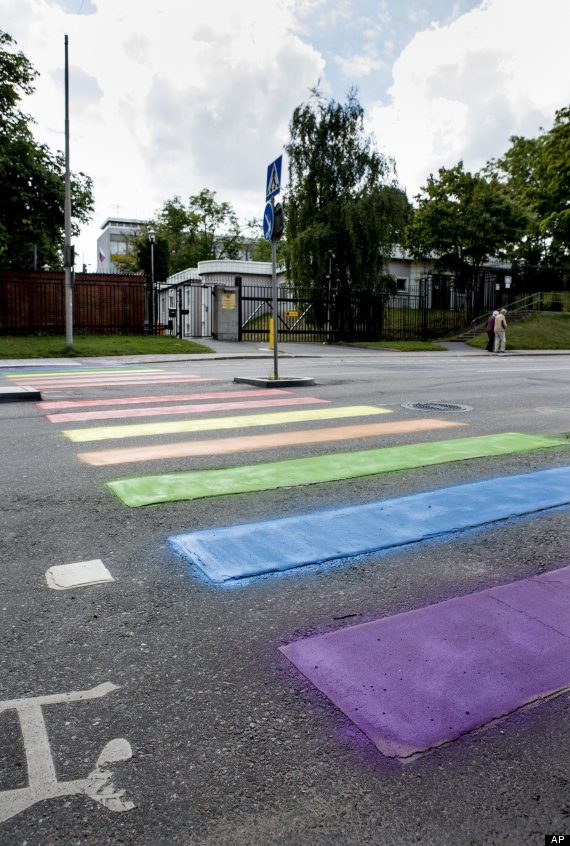 No one has taken responsibility for the act as yet
It came as the World Athletics Championships began in Moscow this weekend.
"We have no case file on it but it will probably be classified as vandalism or a violation of traffic regulations," a spokesman for Stockholm police told Dagens Nyheter.
He added it would not be the police's responsibility to change the colours back to black and white.
Images of the crossing have gone viral, with Star Trek actor George Takei posting it on his Facebook page.
"Protests against Russia's anti-gay laws gaining in momentum and creativity. This is now the crosswalk outside the Russian embassy in Stockholm," he wrote.
The "gay propaganda" ban was enacted in June and essentially bans displays of homosexuality. It is also "illegal to spread information about non-traditional sexual behaviour" to minors (under 18s).
Signed into law by President Vladimir Putin, the legislation gives the Russian government the right to detail gay or "pro-gay" foreigners up to 14 days before facing expulsion from the country.