With their doe eyes and smiley faces, you'd be forgiven for thinking butter wouldn't melt in their mouths.
But these young women are actually part of a new all-female fighting craze, where they are paid to floor each other with wrestling moves – including hair pulling and slapping.
Called Wildcatz, the sport is a mix of all-female wrestling and cat fighting.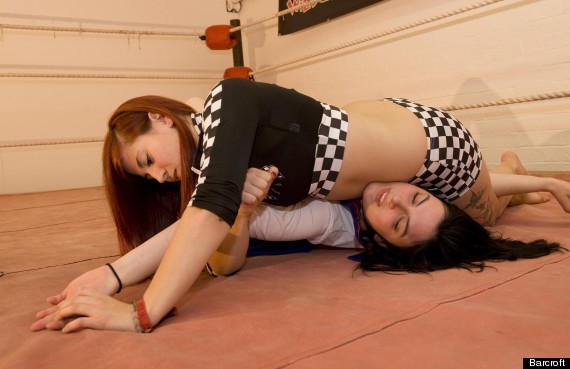 And, incredibly, all the fights are completely genuine.
Co-founder Chris Barber founded Nottingham-based Wildcatz with his partner Bernadette Gealy, a former wrestler, a year ago - and since then the business has exploded.
He said: "It's different from normal wrestling because it's very glamorous whilst being 100 per cent competitive. The fights are genuine and the girls fight to win."
He added: "It's aggressive but it's not violent. It's not a free-for-all. The girls can't punch, kick, scratch and eye gouge or anything else outside of the very specific rules that we allow."
The girls are put through their paces by former royal marine David Johnson and taught wrestling moves by Bernadette.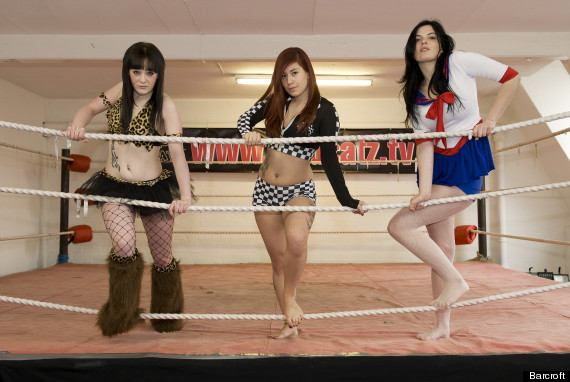 They then take to the ring for seven rounds of two-minute bouts. The winner takes home a cash prize of £50, while the loser gets £30.
Deborah Windley, from Nottingham, is one of the 19 girls currently fighting as a Wildcatz star.
The petite five-foot three-inch 21-year-old wants to be a social worker and currently juggles being a single mum to three-year-old daughter, Mia-Leigh, with working as a bar maid and studying health and social care at college.
In the wrestling ring she puts on a leopard print bra, matching tutu and fishnet stockings to become 'Siran.'
Deborah said she started Wildcatz because she wanted a new job that was a bit different and she got an adrenaline rush from the bouts in the ring.
But not everyone agrees with what she's doing.
She explained: "My dad's not as happy as me about it. He doesn't want me to get hurt. I have had a few bruises from falling over but I've never come out with broken bones.
"A lot of my friends say I'm crazy and they wouldn't dream of doing something like this.
"But I don't really care what they think. If they came to watch me I'm sure they would see it differently."
She added: "If my daughter wanted to do it when she grew up I would definitely recommend it to her."
Story continues below the slideshow:
The fights are filmed and uploaded to the internet where they can be bought for £9.99.
Unsurprisingly they've picked up a huge male fan base – but they've also proved popular with women, too.
Model Sara Christi, a WWE wrestling fan, said she wasn't fazed by the fact that some men find watching her fight a turn on.
The 19-year-old from Nottingham, who fights under the name 'Lucy Chaos' said: "I know some men watching the Wildcatz wrestling will find it a turn on but at the end of the day it's sexy not sexual, and to me it's a sport."
She added: "Believe it or not I was the shy, geeky one at school. I was never in any fights and I always kept myself to myself.
"But I have always loved wrestling. I used to watch the WWE show on television all the time when I was growing up.
"It was weird when I started. I hadn't been in a fight so I didn't really want to hit out but I had to.
"But my confidence grew as I learned all the moves and I really started going for it."
MORE ON HUFFPOST UK:

Editor-In-Chief Carla Buzasi On Her Inspirational Women
Fellow Wildcatz star Heidi Brown fights under the name 'Storm' but it's hard to imagine the 20-year-old as a mean fighter when she's studying for her degree in equine psychology and sports science at Nottingham Trent University.
Heidi, from Bedford, said: ""Most of my university friends know about it now and they do like to make fun of me a bit, it's a bit of banter.
"Most of them are really supportive."
She added: "It wasn't really nervous when I started, it was actually really exciting for me.
"I really love doing it. There's such an adrenaline rush and there's no other feeling like it, you get such a high during and afterwards, it just feels so good as well."
Within six weeks of launching the videos online, the website had received one million hits.
It's such a success that Chris is hoping to take the Wildcatz on tour to theatres and arenas across the country in the future.
He said: "There's still a core of guys of a certain age that are in to women fighting but it's also appealing to women.
"I had a feeling that this would be popular but it's proved to be bigger than I ever dreamed of. The response has been phenomenal."
For more information, visit www.wildcatz.tv