"Any questions?" Roy Hodgson wryly and rhetorically asked as he nestled down for an amiable inquest. However weak Gordon Strachan's Scotland side is, an England victory against the old enemy is one to relish, especially considering the flimsy defending from Joe Hart and Gary Cahill which gifted the visitors their goals.
Rickie Lambert's dream debut capped off a gutsy English performance as steel outranked silk again to preserve Hodgson's unbeaten Wembley run. England haven't enjoyed such home dominance in nearly three years.
The England coach will have learnt little from the last of the aggravating August friendlies, but endeavoured to do so with a three-man midfield system with Jack Wilshere and Tom Cleverley either side of captain Steven Gerrard.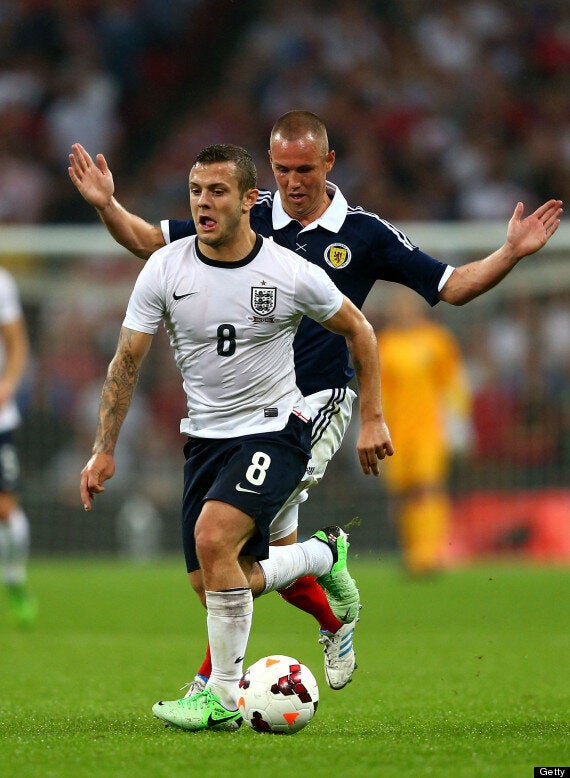 Wilshere was tasked with probing Scotland, along with Cleverley
Gerrard, whose form nosedived for Liverpool last season, struggled and England's attacks invariably ended with his overhit long balls. Hodgson's England have been accused of playing an antiquated style of football, but Wilshere was one of the few individuals whose technique shone.
The Arsenal midfielder's withdrawal at the interval appeared to signal the growing over-reliance on a player whose club follow him with a bundle of cotton wool, yet Hodgson suggested he struggled to influence the game.
"Without going to much into out tactical thoughts, we thought in the early part of the game him and Tom Cleverley were playing too close to Steven Gerrard," Hodgson explained.
"We were a bit too narrow and we were anxious to get him to come more left - centrally - and for Tom to do that on the other side so we got more combinations when we fed the ball wide. We were switching it from side to side and when the ball went to Baines or to Walker so it wouldn't just be Walker and Walcott or Baines and Welbeck, but there'd be another player in there."
"I thought towards the end of the first half he [Wilshere] started to interpret that very well and of course we then got him into areas where we'd like to have him, ie. 30-odd yards from goal where his amazing ability to go past people and unlock doors will help us out."
Hodgson admitted Wilshere "could have given another 15 minutes" but resisted fielding him for the second 45 due to Arsenal's amount of fixtures this motnh.
The Gunners's Champions League play-off with Fenerbahçe makes for an anxious August for both Wilshere, Arsène Wenger and Hodgson, who will almost certainly start the 21-year-old against Moldova in September.
"We were cautious with him because he hasn't played a full game for the Arsenal as yet and we're also very much aware that Arsenal have five matches in the coming weeks before we meet up again," Hodgson said.
"I'm sure Arsène's going to see Jack as a very important member of his team. So we took him off while the going was good."