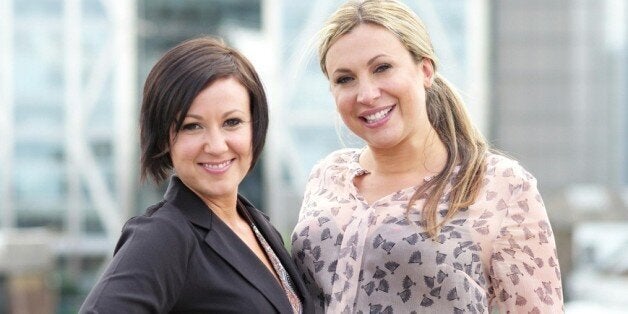 Skinny Tan had already been a success in Australia, reaching a turnover of £750,000, but Cotton and Ferguson managed a rare feat of getting all five Dragons' vying to invest in their business.
Speaking to HuffPostUK, the pair tell how they managed to triumph on Dragons' Den, what their UK plans are and perhaps the biggest question of them all, as asked by Lord Sugar: "Who would need fake tan in Australia?"
So what is Skinny Tan and how did the idea come about?
Skinny Tan is the first self tanner to combine a 100% natural tanning active which is naturally kind to the skin and a naturally derived cellulite contour cream. It's the first of it's kind.
For us more than anything, it's the most beautifully smelling tanner with an amazing coconut scent.
We set up Skinny Tan as having both tried many self-tanning products and realizing there was nothing out there that really satisfied us, we were both avid fans of fake tan and also using cellulite creams. However, applying both products was a hassle and the two products didn't work well together – hence the birth of Skinny Tan!
How did you convince all five Dragons to come on board?
Having bikini-clad models caught their attention for sure and it was a great start to the pitch, however we are also a very established business and currently one of the best-selling tanners in Australia.
We were the best new product in the sun skincare category this year. It was also vital for the Dragons to get close to the product, we ensured they were able to really see the colour and smell the product in the Den.
Now you've got Kelly and Piers on board, what's the plan for growing in the UK?
Kelly and Piers have been amazing already helped us to have an commerce site, they have already been speaking retailers on our behalf. We are hoping to announce a couple of UK retailers are on board with us soon, so watch this space!
They have been crucial to us launching in the UK. To be working alongside Kelly is just amazing, she is an inspiration and very hands-on and she loves the product, in fact she told us over breakfast yesterday that she has been wearing Skinny Tan everyday, she also said she had never found a tan product this good, which is of course brilliant news to us.
The combination of both Piers and Kelly is amazing. We get a mix of business advice, relationships and media buzz from the both of them - it really is a delicious coconut tanning cocktail of success.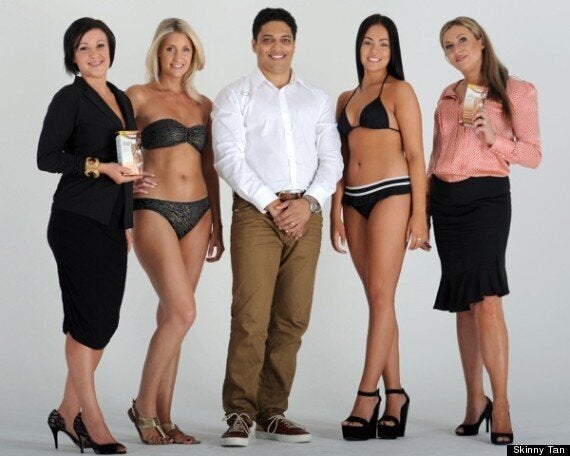 Dragon Piers Linney poses with Skinny Tan models and entrepreneurs Kate Cotton (far-left) and Louise Ferguson (far-right)
How did you grow Skinny Tan in Australia - would they need it so much there?
We launched Skinny Tan in Australia in September 2012, and almost overnight we have achieved incredible success.
In the first year we made £600,000 profit from sales and we are now one of the biggest selling tanning products across Australia. I understand that people think that in Australia it's always sunny, however, Australians are some of the most sun savvy people in the world and they are very aware of the effects of tanning from the sun on the skin.
Tanning products in Australia are very popular and they have to be really good as we know what a real tan looks like.
Most Australians don't tan in the sun and sun beds have been banned, they are very forward thinking and revolutionary in their approach to the sun and it's something that's very important.
Have you pitched a lot for investment before? What are your tips for other entrepreneurs on how to pitch?
We have never ever pitched for investment so this was our first time. Dragons' Den was one of our first experiences of getting investment.
We worked very hard on the pitch and perfected our lines and the sales figures. Having a great product and being confident with it is vital, we come from a country which is sun-smart and understands tanning, which is why we have an amazing product.
It's also vital to have something eye catching. We had the scantily clad Skinny Tan dancers come out before us which provided something fun and light hearted for the Dragons to kick off our pitch. We also think it's key to be yourself and let your passion for the brand come through. We're incredibly motivated as individuals which was very important for the Dragons to see.
Related