The chilling death toll of Muslim Brotherhood protesters killed by Egyptian security forces climbed even higher overnight, with Western countries considering cutting off all aid to the country.
The day's violence was Egypt's worst in decades, exceeding even that seen during the 18-day uprising that ousted president Hosni Mubarak.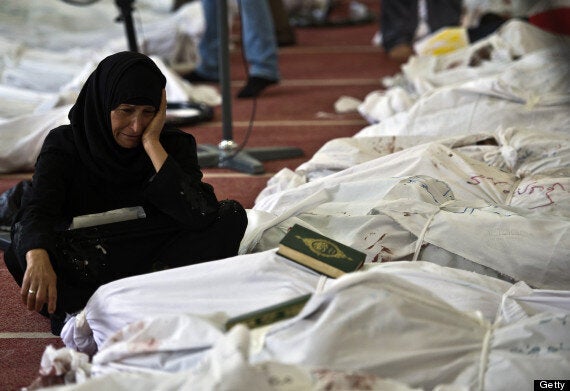 An Egyptian woman mourns over the body of her daughter wrapped in shrouds at a mosque in Cairo
The UK Foreign Office has reportedly summoned the Egyptian Ambassador to London to FCO last night to hear of UK concerns at killings, according to Sky News.
Over 3,500 were injured in the violence. Two journalists, Sky News photographer Mick Deane, and the UAE's Xpress News reporter Habiba Ahmed Abd Elaziz, were shot dead by soldiers.
Mike Giglio, a reporter for the Daily Beast, tweeted that he had been detained and beaten by security forces, and Haleem Elsharani, a freelance photojournalist, said that a Reuters photographer Asmaa Waguih had been shot in the leg.
(SCROLL DOWN FOR LIVE UPDATES)
CNN's Arwa Damon, who hid from gunfire on air earlier in the day, told Piers Morgan's talkshow from Egypt, "It does seem as if journalists are being targeted - at the very least they are being intimidated."
A month-long state of emergency has been declared, with a strict curfew imposed across the capital and several other cities.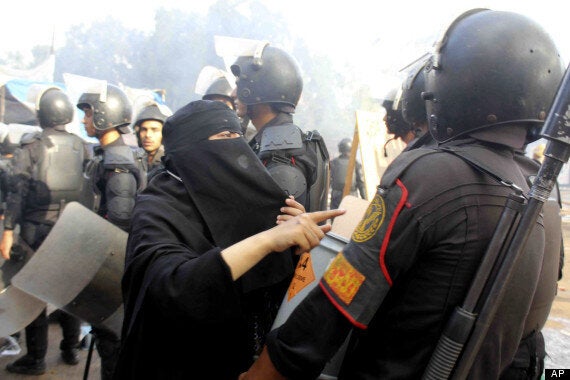 A veiled protester confronts Egyptian security forces as they clear the smaller of the two sit-ins
Last night, Mohamed ElBaradei, widely considered a progressive, resigned as vice-president in the interim government, installed by the military coup. "I cannot be responsible for one drop of blood in front of God, and then in front of my conscience, especially with my faith that we could have avoided it," he said.
Foreign Secretary William Hague said in a statement in the aftermath. "I am disappointed that compromise has not been possible. I condemn the use of force in clearing protests and call on the security forces to act with restraint."
"The violence will only make it more difficult to move Egypt forward on a path to lasting stability and democracy and runs directly counter to the pledges by the interim government to pursue reconciliation," said White House spokesman Josh Earnest.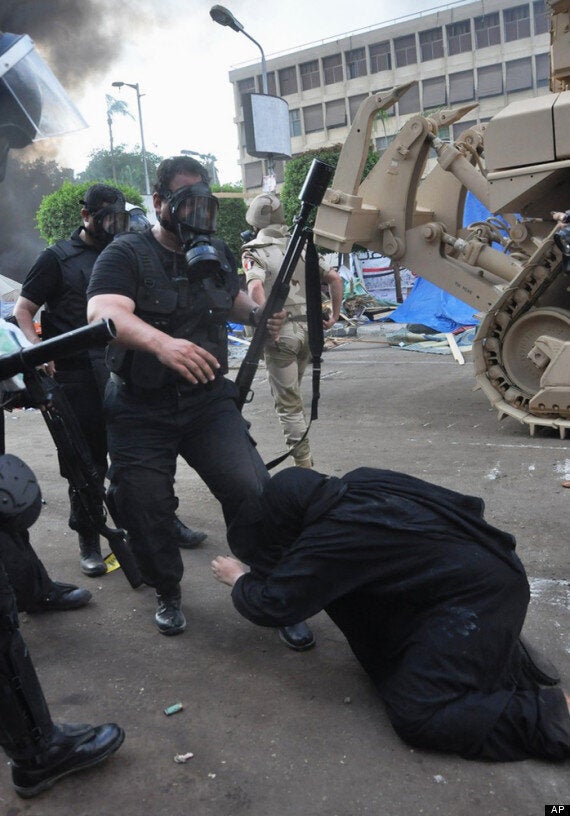 An Egyptian security force confronts a woman at a sit-in camp set up by supporters of ousted Islamist President Mohammed Morsi
But Mohamed Tawfik, Egypt's ambassador to the US, told CNN the disquiet had only been worsening in the Muslim Brotherhood camps in the area of Rabaa, and the army had to act to clear the protests.
"I feel that if another alternative had been arrived at, such as postponing this for another week or two or month or two, the casualties would have been higher," Tawfik said.
"Certainly, this is not something that we're happy with - any Egyptian loss of life is something that we mourn. Nevertheless, this was the least bad option we had in front of us."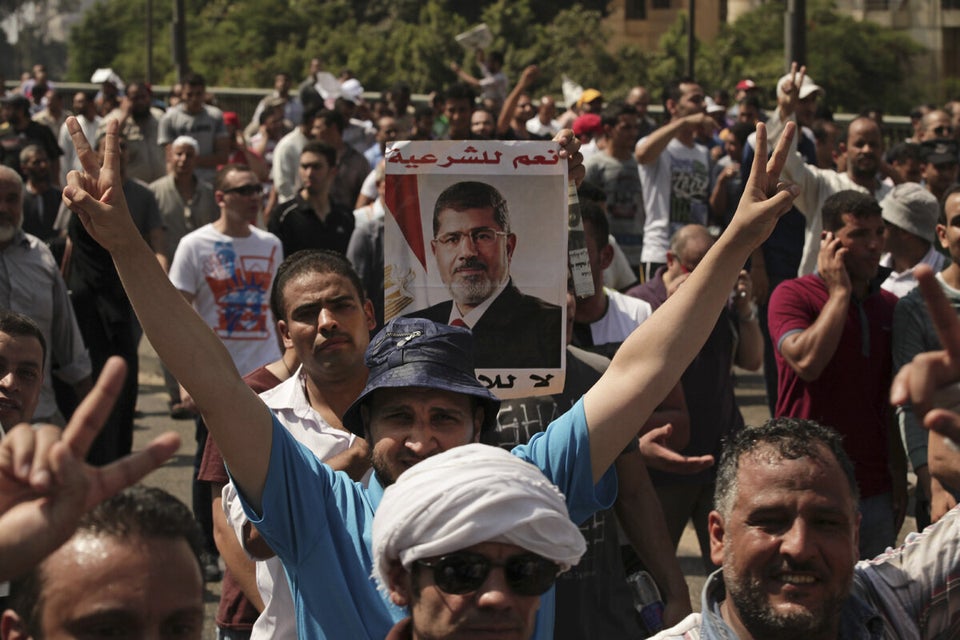 (GRAPHIC WARNING) Egypt Clash Between Islamist President Mohammed Morsi Supporters And Security Forces