Veteran broadcaster Andrew Marr has revealed he is still unable to type after suffering a stroke, as he made his first public appearance since January.
Speaking at the Edinburgh International Book Festival, Marr said his left arm was "still no good" and that he had to use a dictation system to write his latest book.
Marr, who was warmly received, told the packed audience: "This is the first time I have had a big event like this since the stroke. I have no idea how it is going to go."
The former political editor spent more than two months in hospital after the stroke and has also undergone extensive physiotherapy to help him walk.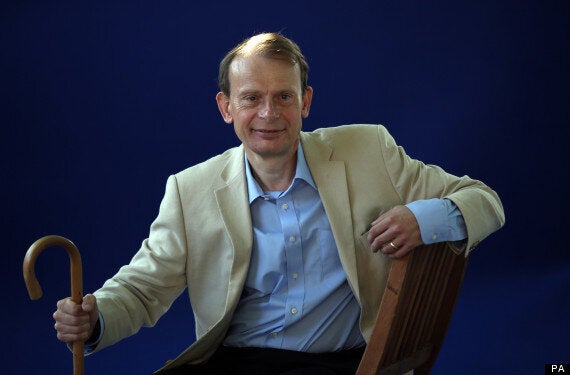 Andrew Marr revealed he cannot type after suffering a stroke
He revealed he had to use a dictation system to update his book which explores the issues surrounding Scottish independence.
"I can't type because my left arm is still no good," he said.
"I used to touch-type but I can't any more. I used to think I could only think through my fingers."
During a lively discussion chaired by journalist Gavin Hewitt, Marr commented on the tone of the independence debate so far, praising the "genius" of Scotland's First Minister Alex Salmond and warning against using current polls to predict the result of the 2014 referendum.
While polls have shown a majority of Scots want to stay in the UK, Marr said next year's referendum would be "much closer than the polls suggest" and there was still a "lot to play for".
Commenting on the tone of debate, Marr touched on the experience of Ukip leader Nigel Farage, who was hounded by protesters during a visit to Edinburgh earlier this year.
"There is a very strong anti-English feeling (in Scotland), everybody knows it, there always has been," he said.
"If you go back to the origins of the SNP, the origins of home rule, anglophobia was as well-entrenched then as it is now.
"I don't think it is particularly serious most of the time, but it can become serious, it can become toxic."
He praised Mr Salmond, whom he said had continued to wrong-foot his political opponents over the years. He suggested the SNP leader had a plan for next year and warned against complacency among the leaders of the unionist parties.
"I think he (Alex Salmond) is some kind of political genius," Marr said
"On the whole he is a brilliant politician. He has now been in power for quite a long time and he is struggling with the gilt rubbing off a little bit.
"All I was suggesting was don't write him off, he has a plan for next year. We haven't heard much of it yet, but we will do."
He added: "If you believe the opinion polls, it's going to be overwhelmingly pro-union ... I doubt that.
"I think it's going to be much closer than the polls suggest. There is a huge undecided vote and a lot to play for."
Marr also touched on the consequences of independence for the remainder of the UK, which he said could include the loss of its seat on the UN Security Council, slashing of its voting power in the European Union, a shift in the domestic political landscape and the loss of the Trident nuclear deterrent.
The Glasgow-born journalist also revealed he would choose a Scottish passport should Scotland vote yes next year.
"I am a Scot, so it would have to be a Scottish passport and not an English passport," he said.
Marr has previously blamed a combination of overwork and excessive exercise for his stroke.
''I had a major stroke, I'm frankly lucky to be alive. I had been heavily overworking - mostly my own fault - in the year before that,'' he said in April.
He is due to return to full-time presenting this autumn, taking up the helm again on BBC1's Andrew Marr Show from September 1 and is also returning to Radio 4's Start The Week.
Popular in the Community