British tourists have been issued with a stark warning by the Foreign Office, which has advised against all but essential travel to Egypt, while holidaymakers by the Red Sea have been urged to stay inside their hotels.
At least 638 people have been confirmed dead since pro-government forces attacked two camps where ousted Muslim Brotherhood president Mohammad Morsi's supporters had gathered to demand his reinstatement.
Muslim Brotherhood supporters have called a "day of anger" for Friday, to protest the bloodshed committed by the security forces. Egyptian government employees clean up outside the protest camp
The advice from the Foreign Office is for the resort of Hurghada, which saw violent clashes earlier in the week in an area away from the main tourist section. Local authorities in Sharm el-Sheikh have temporarily stopped tourist excursions.
The FCO advice said: "In Hurghada on August 14 there were some violent clashes, in an area away from tourist resorts. One man was killed.
"Hurghada police advised tourists to remain in hotel grounds. We advise you to follow their advice. You are strongly advised to avoid all demonstrations and large gatherings
"If you become aware of any nearby protests, leave the area immediately. Do not attempt to cross road blocks erected by the security forces or protesters."
The FCO has also advised against all but essential travel to Egypt, except for some Red Sea resorts. It said that enhanced security measures were in place to protect the resort areas.
In 2010, a record 14m tourists arrived in Egypt and the industry represented 13% of the country's GDP. But even before the last round of violence, the industry has been in crisis, with hotel occupancy rates in Cairo estimated to be around 15% .
Many on social media sites anxiously shared information about their upcoming holidays:
Britain's biggest travel operator, Thomson and First Choice, said in statement: "The majority of our customers are in Sharm el-Sheikh which is a considerable distance – indeed, an eight-hour drive – from Cairo. There have been no related incidents in Sharm el-Sheikh or any of the other popular Red Sea tourist areas."
"Like much of Egypt, Sharm el Sheikh was subject to an evening curfew until 6am yesterday morning. This has now been lifted and all our excursions in the Red Sea resorts will resume from today."
Thomas Cook has cancelled excursions from its resorts to Cairo, Luxor, Moses Mountain and St Catherine's Monastery but "some excursions for UK customers will be operating again as of August 16 within the perimeter of Sharm El Sheikh. These include boat and diving excursions, quads and city tours."
The statement continued: "Our experienced teams on the ground have confirmed no tourist areas have been further impaced and that our customers continue to enjoy these popular resorts.
LuxairTours is offering holidaymakers the chance to change the booking on upcoming Egypt holidays for free, following the declaration of a state of emergency in the country.
The company has around 11,769 British tourists currently in Egypt. There are believed to be around 40,000 Brits in the country at the present time.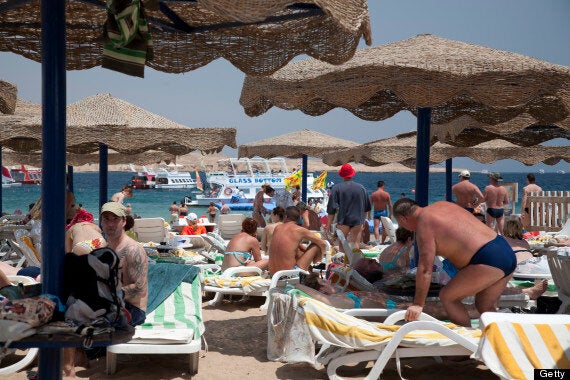 Sharm El Sheik is popular with tourists
The UK travel association Abta also said customers travelling outside Red Sea resorts "will be offered the option of deferring their date of travel, transferring to another destination or having a full refund for as long as the advice remains in place".
The Egyptian ambassador to London blamed supporters of Morsi for the outbreak of violence in Cairo, suggesting the large death toll was partly due to reckless protesters killing each other.
Speaking at a press conference in central London, Ashraf El-Kholy expressed his "deepest regret" at the loss of life, but said the police and army had been forced to shoot at demonstrators.
"Of course they did nothing but return fire," he said. "If you have somebody firing at you then you have to respond."