Cairo has descended into another day of violence after supporters of ousted president Islamist Mohamed Morsi clashed with security forces after vowing a "day of anger" to protest the killing of at least 600 people on Wednesday.
In a confused situation in Egypt, officials said at least 38 people had already been killed, including a police conscript ambushed at a checkpoint. The authorities put the death toll in Cairo at 13, with many more injured.
The army and police force had earlier warned they will fire live rounds on civilians to protect state and army buildings from occupation.
Tahrir Square has been closed off and surrounded by armoured vehicles, and there have been clashes in the city's Ramses Square where foreign reporters have seen bodies and injured protesters.
There have also been reports of at least 12 deaths in Damietta and Ismailia as the violence spreads elsewhere in Egypt.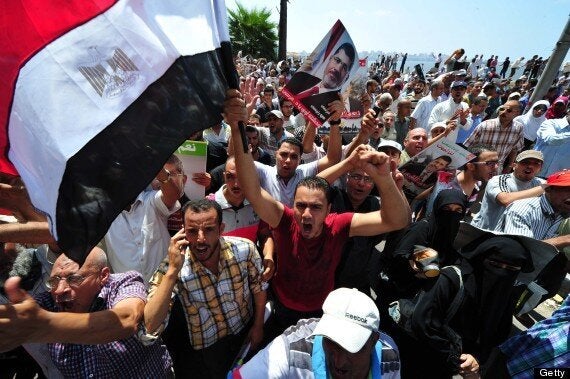 Mohamed Morsi loyalists have been marching in Cairo
"The struggle to overthrow this illegitimate regime is an obligation, an Islamic, national, moral, and human obligation which we will not steer away from until justice and freedom prevail, and until repression is conquered."
Thousands of people have gathered in Ramses Square, with secularists joining Muslim Brotherhood supporters to oppose the conduct of police and armed forces.
Egypt's powerful military removed President Morsi from his post in July following popular demonstrations against his rule. He was arrested along with several senior members of the Muslim Brotherhood and its political wing, the Freedom and Justice Party. Yesterday, prosecutors extended his detention by another 30 days.
His ouster was followed by several sit-in protests in Cairo, with the demonstration at the Rabaa al-Adawiya mosque being the focal point of the Islamists' protests. The use of deadly force by the military authorities to break up these protest camps has been the spark for this latest wave of violence.
Pictures posted on social media showed protesters writing their names in white marker on their arms, in case they are shot and need to be identified.
Early reports indicated that shots were fired at protesters attempting to cross the May 15 bridge over the Zamalek neighborhood in Cairo.
US president Barack Obama is facing growing criticism over his response to the crisis.
Yesterday he cancelled a joint military exercise with Egypt, saying "our traditional cooperation cannot continue as usual", but gave no indication that the US would cut its £830 million (1.3 billion dollars) in aid to Egypt.
But Republican senator John McCain told BBC's Newsnight that the arrest of Mr Morsi had been a "coup", and US aid should be withdrawn as a result.
He said: "The law is very clear that if there is a coup that aid is cut off and we decided not to do that."
"It's a great tragedy and the United States is basically an observer," he added.
Egypt's government issued a statement last night pledging that it would work on restoring law and order and expressing "sadness" for the deaths of Egyptians, the Associated Press said.
But it said it was facing "terrorist actions targeting government and vital institutions" by "violent militant groups".
It also warned that Obama's position, while "not based on facts", could "empower the violent military groups".
The Egyptian ambassador to London yesterday blamed supporters of Mr Morsi for the outbreak of violence in Cairo, suggesting the large death toll was partly due to reckless protesters killing each other.
Speaking at a press conference in central London, Ashraf El-Kholy expressed his "deepest regret" at the loss of life, but said the police and army had been forced to shoot at demonstrators.
"Of course they did nothing but return fire," he said. "If you have somebody firing at you then you have to respond."