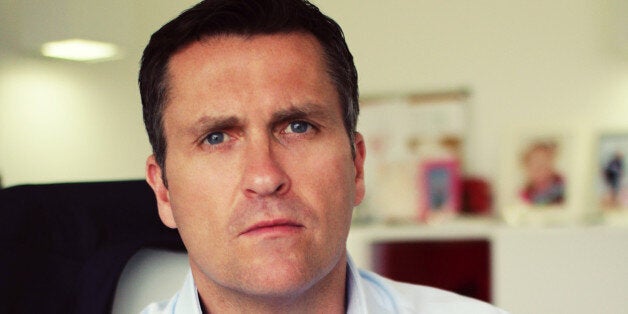 Jason Roberts started out in the 1990s making carry cases for Sony Playstations to enable people to carry them around, later going on to work with Nintendo and Microsoft.
But in 2005, Roberts became aware of the new non-Newtonian substance called 'D3O'. The new material lends itself well to impact protection as it is naturally flexible but in response to any shocks, the substance locks together to absorb and disperse energy. The substance is already in use by the US Military and the British Ministry of Defence.
After that, Roberts' Tech21 label quickly found a niche with Apple designing cases for its iPhones and iPads, and designing accessories for Samsung gadgets too. With Stephen Fry and Jonathan Ross as fans, Tech21 has gone on to achieve a 1000% annual growth over the last few years. The firm has been posting a £16 million annual turnover.
HuffPostUK spoke to Roberts about how he has grown so far and where he is going next.
So how did Tech21 get started?
In 2005, we were working for a famous sports brand and we heard of the quite unique non-Newtonian material called D3O.
We started playing around with the D3O material and thought it was unbelievable. It was quite raw in those days and we realised there was a mass growing market in mobile communication. A year later, the first iPhone was launched and I myself invented the bumper for the iPhone, so we were the first people to launch a bumper.
It's not a cheap material and it's incredibly hard to manufacture.
Our products normally are between a 14 and a 28 step product to manufacture and that is just for one case. We're not just another pink, yellow or blue mass-produced mobile phone cover firm.
We've got 40 staff in the UK, and between 15 and 20 in the States. We work closely in partnership with some research and development people in Europe. We also have a very strong engineering team in the Far East, based over in Hong Kong and in our secure factory in China, but we also manufacture out of Korea, Japan and Taiwan.
We've also started working with policemen, fire brigade and emergency services.
We do make stuff for the special forces too. We recently made a product that, well, if you saw one, you'd want to make sure you got off the plane rather quickly!
Normally anything that has any kind of electronics in it normally needs some kind of ruggedisation.
Jason Roberts' appearance on Dragons Den
What have you learnt on the way in building Tech21?
You're going to make a lot of mistakes when you start a new business but when people go to set up their own business, you know what? I don't even feel like an entrepreneur, I just feel 'that is amazing, I want to make it, how can I use it?'
It's having the passion from having the idea to taking it forward into a fully functioning and usable product. All of the engineers I work with are like 'no you can't do it', but I never say no. It might not be exactly what you want but you can always do it. It's having the guts to keep going when people say it won't work, yet it will work.
We're grabbing shelf space in the UK at a rapid process. A lot of the buyers and all of the buyers know who we are and what we do. People are starting to understand more that when you manufacture and produce projects as a third party and it's the best-selling product for Apple and also for Samsung.
People are starting to understand 'I think there is something in this', as all the top brands are using them.
We don't have an endless bottomless pit of money to spend on marketing but are spending it by association with the best brands in the world.
How has Tech21 been doing recently?
We've grown by about 1000% over last three years, year-on-year. We have been courting Apple for a number of years and have been in talks with them about a number of solutions. We've launched our first case range for the iPhone 5 in 2005 with Apple. By Q1 2013, we were providing the best-selling case products for Apple globally online.
By September we'll have a fairly large array of products not only for the iPhone 5 but we're one of the only brands introducing an impact protection case that works with their smart cover, globally.
Any prospect of deeper involvement with Apple, like being taken over?
Who knows? I can't really go into it but watch this space!