UPDATE: WikiLeaks have called Bradley Manning's sentence a "significant strategic victory", adding that he will be "elegible (sic) for release in less than 9 years".
Bradley Manning, the soldier convicted of distributing more than 700,000 confidential government documents to WikiLeaks, has been sentenced to 35 years in prison.
Judge Colonel Denise Lind, who convicted Manning in July of 19 charges, including six counts of violating the Espionage Act of 1917, delivered the sentence at a hearing in Fort Meade in Maryland on Wednesday morning (EST).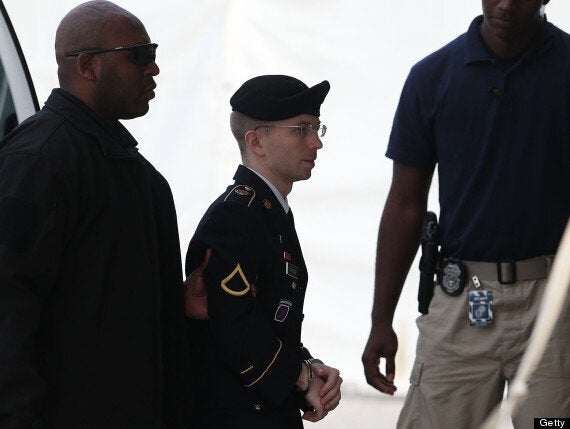 Manning was sentenced to 35 years behind bars
The judge did not break down the sentence by individual charge in line with the U.S. court martial process; Manning did not give a statement following the sentencing.
Following delivery of the sentence, Manning was bustled out of court by military police. One supporter shouted: "We'll keep fighting for you, Bradley."
The sentencing ends three years of speculation over the fate of Manning, who for many has become a heroic figure and a symbol of truth and transparency against the clandestine misdeeds of the American administration during the Iraq War.
Amnesty International, which has campaigned relentlessly for Manning's release, issued an immediate statement demanding the sentence be commuted.
Widney Brown, senior director of international law and policy at Amnesty International, said: "Bradley Manning acted on the belief that he could spark a meaningful public debate on the costs of war, and specifically on the conduct of the US military in Iraq and Afghanistan. The US government should turn its attention to investigating and delivering justice for the serious human rights abuses committed by its officials in the name of countering terror."
Manning is now expected to take his sentence to the Army Court of Criminal Appeals, having retained lawyer David Coombs to aid him through the clemency process in an effort to shorten his sentence. However, Manning is unlikely to be eligible for parole until he has served at least a third of his sentence. That means he will spend at least ten years in prison.
During Monday's closing argument, the prosecution asked for at least 60 years for Manning, arguing that the private had placed lives at risk, while the defence pleaded for leniency, arguing that Manning could still have a productive life.