Two Russian athletes who shared a kiss on the podium after winning a gold medal in the World Athletics Championships have furiously denied reports the gesture was a protest at their country's anti-gay propaganda laws.
Kseniya Ryzhova and Yulia Gushchina have said their victory has now been "tarnished" after their passionate embrace dominated reports following the thrilling 4x400m race against the US.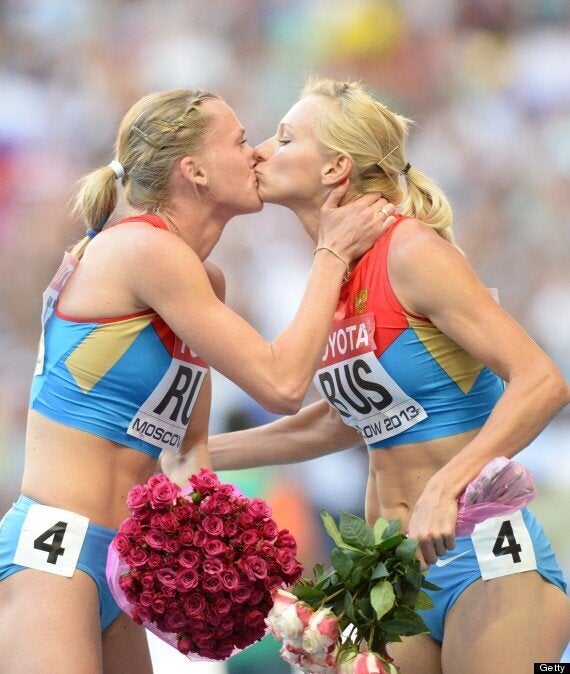 Kseniya Ryzhova And Yulia Gushchina shared a kiss after their win
After the pair were pictured kissing each other on the lips, rumours rapidly escalated that the move was a gesture of defiance against Russia's controversial new law, which makes it illegal to give under-18s information about homosexuality.
However, Ryzhova angrily explained that she and her teamates had merely been overcome with emotion and were caught up in the moment.
"There was no hidden political motive," she said, referring to the kiss.
"Instead of congratulating the athletes, they [the press] decided to insult not only Yulia but the whole [Russian] athletics federation.
"For eight years we have not won a gold medal. You can't even imagine what it was like, when we understood that we'd won," she said at a Moscow press conference.
"It was a wave of unbelievable feelings and if somehow, completely by chance, while we were congratulating each other, our lips touched, I don't know in whose fantasy this all gets thought up."
She added: "Myself and Yulia are both married and we are not having any kind of relationship.
"These victories are hard to come by and we were happy. I don't understand how everything could be tarnished in such a way," Gushchina said.
The law against spreading "gay propaganda" among minors is part of the conservative course Vladimir Putin has charted in his third term as president, following protests against his 13-year rule of Russia.
However, earlier in the championships, Russia's pole vault gold medal winner Yelena Isinbayeva defended the new legislation, criticising two Swedish competitors who had painted their fingernails with rainbows in support of gay rights by branding them "disrespectful."
"If we allow to promote and do all this stuff on the street, we are very afraid about our nation because we consider ourselves like normal, standard people," Isinbayeva said.
"We just live boys with woman, women with boys."
Related