Beware that if you download O2's latest mobile app, there's a chance others might want to steal your phone!
When intrepid reporters Nicola and Maddie decided to roadtest the new TU Go app, for News Burst TV (see video above) they discovered that they weren't the only birds who instantly fell in love with the idea.
The TU Go app is designed to transform the communication experience of O2 customers.
Whether you want to text from your tablet, call a friend from your PC, or are stuck in the middle of nowhere with no reception on your phone, this app allows users to make that connection at the touch of a button - provided you have Wi-Fi coverage. All you need is an O2 phone number.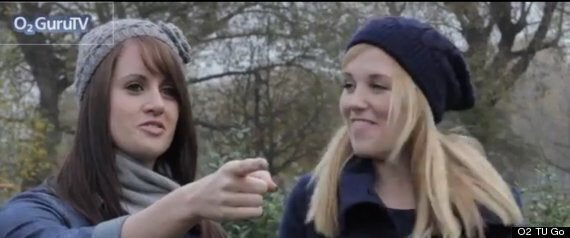 Nicola and Maddie discuss the loss of their phone... to a magpie.
As long as they've got Wi-Fi, then O2 Pay Monthly customers can get in touch with their mates using their normal phone number on a multitude of devices - laptop, tablet or desktop computer.
According to Nicola: "TU Go uses the contacts that are stored locally on your device. So to make the most of it you should back up your contacts by a cloud-based storage site. For example, you could use your Google account to back up your android phone or tablet, or whatever device you're using. That way when you use TU Go all your contacts will be ready and waiting, when you log on to your device."
Maddie adds: "If you have an iphone or ipad, that will work exactly the same with icloud too."
As the ladies so aptly put it: "Perfect!"
In the app there is a timeline, where you can see all your calls messages and voicemails, plus your device's contacts list and settings. You can download the app on as many devices as you like and you can use it on up to five devices at the same time.
All you need to beware of now are kleptomanic magpie with a penchant for shiny phones!