A leading showjumper is hoping success in her GCSEs will spur her on to win a place at the Olympic Games.
Romilly Simmons gained three As, three Bs and three Cs in her exams and plans to study A-levels.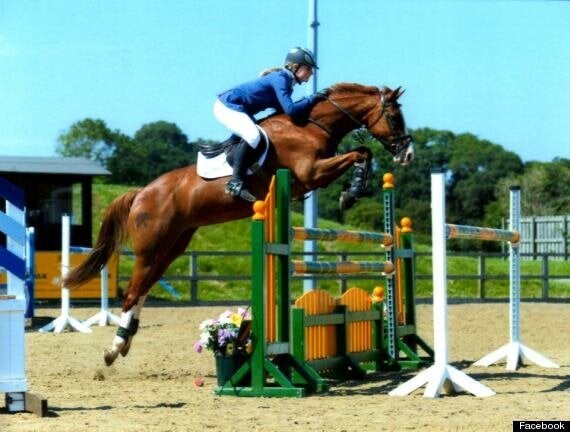 The 16-year-old, from Taunton, combines her studies with competing across the country in showjumping.
Romilly, who buys horses from Ireland, trains them and sells them on to fund her riding, qualified two horses for the Horse of the Year Show last year.
"I don't come from a horsey family and am the first person really to ride seriously so have to find a way to fund my riding myself," said Romilly.
Romilly competing with her horse Fionn Mac Cumhaill II at the Wales and West Under 18s 1.05m 7th
"I bought the youngsters from Ireland and brought them on to qualify with lots of training in the arena and running on the Quantocks, near to where I live.
"The horses were only 1.48m in height and they were jumping 1.40m - nearly their own height.
"I like them to have lots of spark and personality and to enjoy their flat work and jumping."
Romilly has jumped at the British Open at the NEC in Birmingham and came second in the Scope Festival in Staffordshire, and has qualified for Scope again this year.
The teenager won speed classes at the Blue Chip Finals where riders come from all over Europe, and won both her classes at the Royal Bath and West Show.
Her challenge this year is to jump her current horses, Godzilla, Fionn and Echo, at the Royal International at Hickstead and to compete abroad.
Romilly, who is staying on at Queen's College in Taunton to study A-levels in art, ethics and philosophy, psychology and biology, said she will not be going on to university straight away.
The teenager hopes to live abroad, riding in some of the top European and US championships and gaining experience by working in a yard, riding and training horses.
She is sponsored by Griffin NuuMed, which also sponsors Zara Phillips and Debbie Criddle, and Condor Cases.
"I have been very fortunate that Queen's College has been so supportive and allowed me to take time off school to go to events," said Romilly.
"I often have to leave at Friday lunchtime and my teachers have given me work to catch up which I do either in the lorry going up the motorway or between classes."
Chris Alcock, head of Queen's College, said: "We are very proud of Romilly who has worked exceptionally hard, often getting up very early in the morning and working late at night to look after her three horses, and achieving tremendous success in the arena.
"Much of her riding she funds herself and has shown great determination and focus in training her horses.
"She deserves these great GCSE results and I look forward to watching her on television competing in future Olympic Games."