A four-metre-long horned sea devil has washed up on a beach in Villaricos, Spain.
Or at least something is causing a stink on the shores of the Almanzora caves near Almeria.
Samples of the rotting, white carcass are being tested by members of the marine fauna protection society PROMAR, Think Spain reports.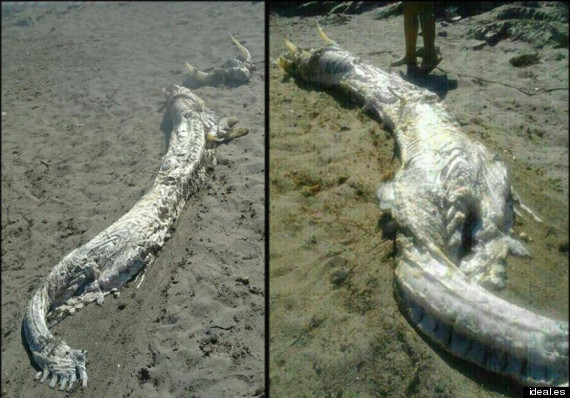 Smelly: The remains of something strange have washed up on a Spanish beach
The rest of the beast has been buried for "hygiene" reasons.
The find was made by a swimmer who first discovered the horned "head" of the creature and then stumbled across the body further down the beach.
"We have no idea what it can be, but it smelled bad, because it was so badly decomposed," Civil Protection Coordinator Maria Sanchez told local media, Digital Spy reports.

All gone: The remains are being tested, while the rest of the carcass has been buried
Theories thrown into the pot so far include the suggestion it is a mutant fish, a species of shark or an oarfish.
Oh and some say it's either the Loch Ness Monster or "some sort of sea dragon or water dinosaur," Grind TV says.
We think it looks like the dragon out of The NeverEnding Story. Sad times.