On top of the launch pad being battled over by By Billionaires Elon Musk And Jeff Bezos, Nasa has also begun to sell off three mobile platforms and a space shuttle.
The giant crawling vehicles with huge caterpillar tracks moved space craft and their rockets to their launch sites the Kennedy Space Centre in Florida.
They were built way back in 1967 for Apollo missions than later modified for space shuttle launches. each one weighs 4,100 tons and is two stories high.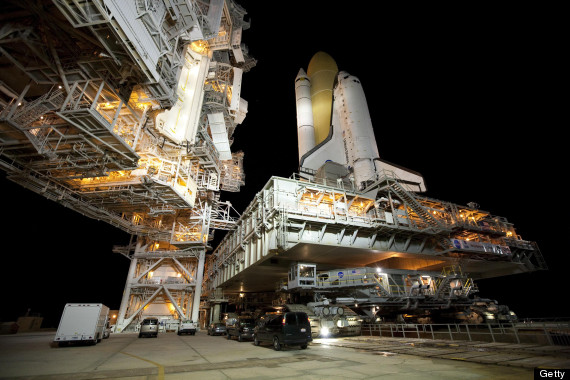 Nasa wants private companies to take the equipment so it won't be forced to recycle them for scrap.
The figures involved in the purchases have not been made public a;though each launch pad cost £150 million for Nasa to develop.
Elon Musk And Jeff Bezos both own their own private space companies.
Musk's Space X are by far the most high profile of the two companies and they already own two other launch sites.
Other notable achievements include their Grasshopper reusable rocket and their impressive Falcon 9.
The company is also developing the Falcon Heavy launch system which will be the most powerful rocket in the world and has the potential to take humans to Mars.
They are competing with Boeing and Sierra Nevada for a lucrative Nasa contract to ferry astronauts to and from the International Space Station.
Musk also has a few other projects in the pipeline including his rather mysterious Hyperloop Transit System.
Blue Origin are much more low key but last year announced their imaginatively titled 'Space Vehicle' had wind tunnel tests.