We're under no illusions that this so-called heatwave may never materialise, but these barbecue-friendly vegetarianrecipes from chef Anjum Anand work just as well indoors with the rain pelting down.
Taken from her new book Anjum's Indian Vegetarian Feast (Quadrille, £19.99), here are three recipes from the book (it really is a beauty with stunning photography that tempts even the most passionate carnivore):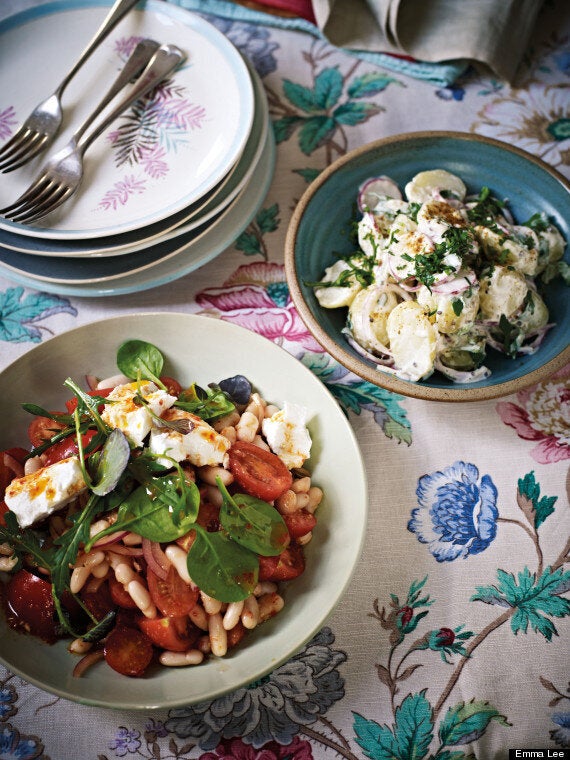 This lovely dish is a fusion of a creamy American potato salad and the potato salad from India known as aloo chaat. Chaat masala is a blend of tangy spices and literally means 'to lick' (as in your fingers). It can be found in all Indian grocers, as well as online.
You can leave it out if you don't have it, the salad is still sublime and immensely moreish without overpowering the potatoes. Any waxy potatoes will work in this salad, so find out what is in season and use those as they will have the best flavour. The radishes add bite and crunch and their leaves have a lovely peppery flavour, but you can add any other vegetable you like; try finely sliced fennel, cucumbers, celery or even fine beans.
500g new potatoes, washed well
¼ small red onion, very finely sliced
1–2 green chillies, deseeded and finely chopped (optional)
½–¾ tsp chaat masala, plus more to serve (optional, see recipe introduction)
3 large radishes with leaves (if possible),
well washed and finely sliced
large handful of chopped coriander leaves
4 tbsp mayonnaise (light is fine)
2 rounded tbsp sour cream
1 small-ish garlic clove, peeled and grated
1½ tbsp extra virgin olive oil
lots of freshly ground black pepper
Place the potatoes in a large pot and cover with plenty of water, salt well and bring to a boil. Boil until the tip of a knife goes through them easily, around 15 minutes.
Meanwhile, make the dressing. Whisk together the lemon juice, mayonnaise, sour cream, garlic and half the oil, then season to taste. Heat the remaining oil in a small saucepan, tilting it so the oil collects in one area. When hot, add the mustard and cumin seeds, following after a few seconds with the fennel seeds. Reduce the heat and cook for 10 seconds or until the popping dies down. Stir into the dressing.
Drain the cooked potatoes and peel as soon as they are cool enough to handle; halve if small, or quarter larger ones. Stir into the dressing with the red onion, chillies and chaat masala. The potatoes will absorb the dressing as they cool. Stir in the radishes and their leaves and the coriander just before serving. Taste and adjust the seasoning. Sprinkle with a little more chaat masala, if you like, then serve.
TANDOORI VEGETARIAN FEAST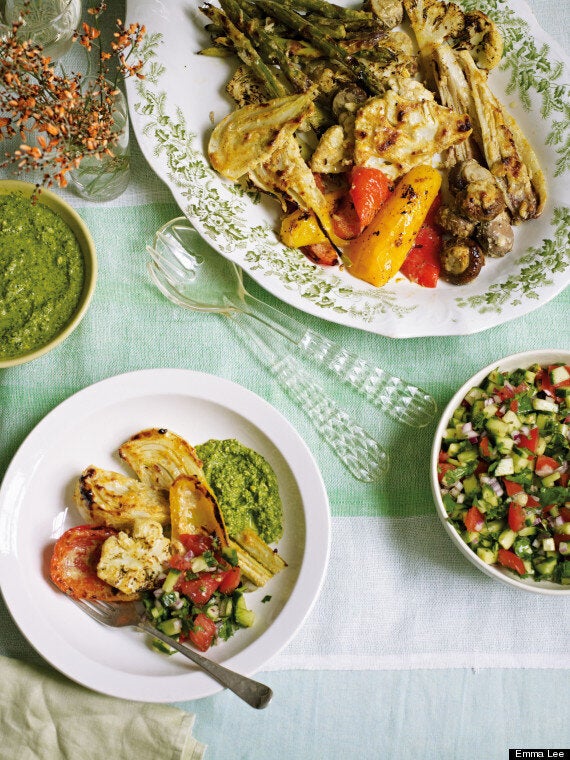 700g vegetables, such as:
cauliflower, in large florets
broccoli, in large florets
purple radicchio or endive, cut into wedges through the root
fennel, cut into 1cm slices peppers, quartered lengthways
2–3 tbsp melted unsalted butter, to baste
For the tandoori marinade:
½–¾ tsp chilli powder, or to taste
1 tsp garam masala, or to taste
4 garlic cloves, peeled and grated
15g root ginger, peeled weight, grated
50g cashew nuts, soaked for 10 minutes, then drained
good pinch of freshly ground black pepper
To blanch the vegetables, bring a large pot of salted water to the boil. Throw in each vegetable, separately. Return to the boil, then time the cooking: artichokes and mushrooms take two minutes, cauliflower and asparagus take one. Remove with a slotted spoon and plunge into cold water to stop the cooking. Squeeze mushrooms to remove any excess water. Broccoli, radicchio, fennel and peppers will not need blanching.
For the marinade, place half the yogurt, the oil, lemon juice, spices, garlic, ginger and cashew nuts in a blender and blend until smooth.
Stir in the remaining yogurt and season generously.
Preheat the grill to its highest setting, or light the barbecue. Oil a grill rack or a large baking tray.
Dip the vegetables in the marinade and coat well. Place on the rack or tray and barbecue or grill until the paste turns golden and charred in places. Turn and repeat; it takes around 10 minutes in total.
Baste the vegetables with butter and serve with the lemon wedges and Creamy Mint Chutney (see below).
This is the type of chutney, called pudina, that you find in Indian restaurants to eat with your popadums. It's great with tandoori food.
Blend together 30g of mint leaves, 30g of coriander leaves and stalks, 2 tsp of roasted ground cumin (see page 9), 1 tbsp of caster sugar, 1 green chilli, de-seeded, and 50g of yogurt until smooth. Season with salt, then stir in 150g more yogurt and lemon juice to taste. Adjust the seasoning and serve.
CHICKPEA BURGERS WITH INDIAN COLESLAW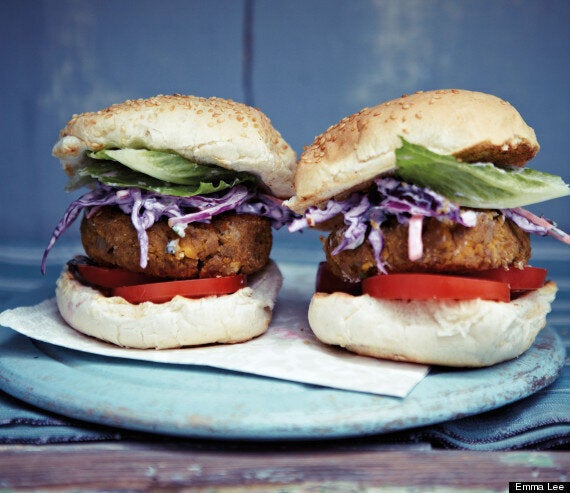 Makes 4 large burgers, or 6 medium burgers
These burgers are spicy and deeply satisfying. Put aside any preconceptions of bland, mass-produced bean burgers, these are so much more. The coleslaw really adds vivacity with its texture, freshness and tanginess. The patties also work well made into kebabs and rolled into a wrap with the coleslaw, Tangy Herb Chutney and garlic yogurt.
1 small-ish onion, finely chopped
2 rounded tsp peeled, finely chopped root ginger
4 garlic cloves, peeled and finely chopped
1½ tsp dried pomegranate powder (optional but really delicious)
2 x 400g cans chickpeas, drained and rinsed
2 slices of wholemeal bread, crumbed
20g finely sliced red onion
30g finely sliced carrots
large handful of chopped coriander leaves
80g mayonnaise (light is fine)
freshly ground black pepper
4 large, or 6 small, burger buns (I like those with sesame seeds on top)
a few crispy lettuce leaves
1 large vine tomato, sliced
For the burgers, heat 2 tbsp of the oil in a non-stick saucepan. Add the cumin seeds and cook for 10–20 seconds, or until they have darkened a little. Add the onion and cook until golden and the edges are beginning to brown. Add the ginger and garlic and cook gently for a minute or until the garlic no longer smells raw. Add the spices, salt and a splash of water and cook down until dry again.
Add the chickpeas and cook for three to four minutes, or until most of the moisture in the pan has dried off. Taste and adjust the seasoning. Pour just over three-quarters of the contents of the pan into a blender with the breadcrumbs, and blend until smooth. Lightly crush the remaining chickpeas in the saucepan, scrape the blended mixture back into the pan and mix well.
Mix together all the ingredients for the coleslaw and season to taste.
When you are ready to eat, heat the remaining oil in a non-stick frying pan. Make four to six burgers out of the chickpea mixture, making sure the edges are smooth. Place in the pan and cook over a gentle flame for six to eight minutes, turning once, until both sides are lightly browned.
Meanwhile, lightly toast your buns. Assemble the burgers as you prefer, with the coleslaw, lettuce and tomato. Balance the remaining bun half on it all and enjoy.
Related