Freedom is only the first battle for Pussy Riot's Yekaterina Samutsevich.
The Russian punk pioneer, radical artist and gay rights campaigner is the only member of Pussy Riot on Russian soil who has her freedom, since three of the band were jailed a year ago.
The oldest of the Pussy Riot three, aged 30, Samutsevich was released in October, her two year sentence suspended.
The reason was she had never made it to the altar of Moscow's cathedral to perform a 'punk prayer' against President Vladimir Putin – she was kicked out the church before she could get there.
Her two bandmates, Nadia Tolokonnikova and Masha Alyokhina remain behind bars, staging hunger strikes and so-far unsuccessful appeals.
Her freedom, Samutsevich tells Huffington Post UK in a Skype interview, was nothing more than "a small victory". In person, she is far from her characterisation as a ferocious, leaden-faced campaigner, speaking not in absolutisms, but softly, of moral dilemmas.
"I do try to be pleased about gaining that freedom, but Nadia and Masha are not free. Justice was not done, so the battle continues," she says, from the offices of Amnesty International in Moscow.
One Year On: An Open Letter to the Women of Pussy Riot, Still Defiant
Now, 12 months later, the images of Russia dominating TV news in Europe and the US are not of three young women caged inside a courtroom, or a rainbow of balaclavas outside Russian embassies.
Instead, the pictures are of bloodied gay rights demonstrators in St Petersburg and Swedish athletes with multi-coloured nail varnish to protest the new Russian laws against "gay propaganda to minors".
The law, in practice, makes it near impossible to hold gay pride marches or demonstrations for equal rights.
Before Pussy Riot, Samutsevich was an eager LGBT activist. Does she agree with the calls for athletes not to attend the game?
"Of course I support the boycott," Samutsevich says, "but it is hard not to feel that it is a shame that the laws of this country mean it deserves to be boycotted."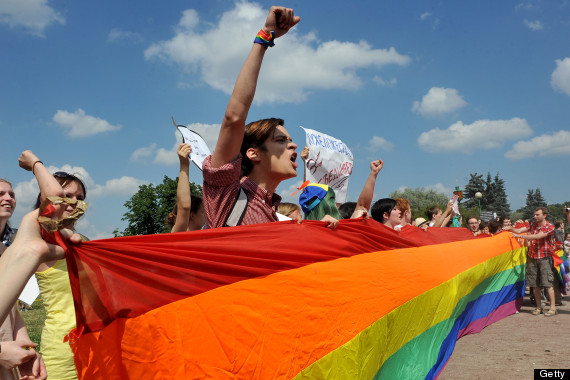 Gay rights activists shout slogans during a rally in St Petersburg on 29 June
She is wary, she says, that a boycott is creating "victims" which the establishment can use for political leverage against the progressive movement.
"The point of the Olympic Games is actually something which is good and positive. To refuse to take part in the Olympic Games because of the politics of the country is very offensive. The sport, the athletes are not the problem."
Activists abroad are doing the right thing, she says, citing banners at gay pride marches and open letters in the media.
Once a prolific filmmaker and artist, Samutsevich says her life is very different now, with the anonymity, gifted to her by the Pussy Riot uniform neon balaclava, gone forever.
"I was never famous before," she told HuffPost UK. "Now everything I say is in the public eye."
Though the jailing of Pussy Riot caused an international outcry, with Amnesty calling it the three "prisoners of conscience" who are victims of an intention to "gag free speech and emasculate civil society", many in Russia thought the women naïve at best, malicious and destructive at worst.
For Samutsevich, this is par for the course. "Many consider that if we were given a sentence, well, then it was right."
Rumours of a rift between her and her jailed bandmates, have emerged, but Samutsevich says the trio are still in touch. But her letters go through lawyers and are censored.
"We are not able to talk, and sending the letters through lawyers is a very weak way to do things," she says.
Other members of the group who took part in the protest, but were never arrested, are believed to have left Russia.
But Samutsevich has no real desire to follow. Russia is her country, she says, and she wants to see out change here.
"In general, I feel safe at home, though there's always danger in a country such as this, and I'm restricted in my opportunities to be creative, to make art and to film."
The name of Pussy Riot – which the band's now ex-lawyers even attempted to trademark – is now used by about 10 other groups, who make music, but are not the original band, Samutsevich says.
"A lot of people have used our name, spoken on our behalf, but the main thing is to listen to what it is that they saying.
"There was a track released by 'Pussy Riot' called 'Like A Red Prison'. That wasn't released by us. But people do have a right to use our name and ideas if they support us and are inspired by us."
But does she have to be careful whom she trusts, to make sure they do not take the name of Pussy Riot in vain?
"Hmmm... next question," she says, polite, but firm.
What she loves most are the artistic expressions of support, not just from pop-stars like Madonna and Paul McCartney, but ordinary acts of creative civil disobedience around the world, inspired by Pussy Riot. Supporters of feminist punk group Pussy Riot stand behind barricades surrounding a court in Moscow
"Having the support of people all over the world shows that our actions in the Cathedral were not hooliganism, but art. People in Russia think art is a closed book, that art is just a portrait or a painting.
"They do not understand that it can be other things; and that it can shock.
"I heard about an example in America. So, in New York it is forbidden to wear balaclavas and cover your face in certain public spaces. For several days from August 17th, I think it was, three people illegally covered their faces and went to different places. This was an amazing demonstration of support."
The attacks on gay rights activists, and her own imprisonment for taking part in a performance of an anti-Vladimir Putin "punk prayer" at Moscow cathedral, are difficult for your average Westerner to comprehend, she hints.
"I have really noticed how shocked people seem to be at our different political systems, the USA is very different, in Moscow everything is very closed. I think Pussy Riot did help to highlight that."
Even if growing dissatisfaction is clear, there is no obvious opposition to Putin for her or like-minded individuals to rally behind, she says.
Anti-corruption blogger Alexei Navalny, currently campaigning to be Moscow mayor, "is part of a new generation of politicians in Russia emerging," she says.
Navalny seems a likely ally, himself recently at the centre of a politically-motivated court case which saw him imprisoned for corruption, then unexpectedly released 24 hours later.
But Navalny, Samutsevich says, does not inspire her, and she does not support him, even though she agrees he is "the most active" opposition voice.
"The whole political system has to be different, if we are to ever change the situation in Russia," she says. "But I do believe protests can change things."
She cites the boycott of Russian vodka by gay bars and supporters across the US and Europe. "I believe, at least in theory, that any one can change any situation, even in a totalitarian state, if the people keep up the protest."
Laura-Rose Saunders contributed to this report
SEE ALSO