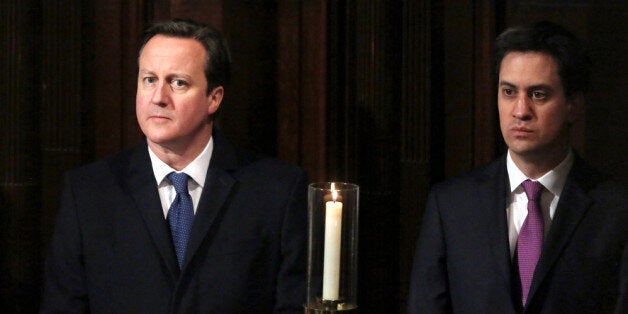 Ed Miliband has said the Labour Party may back possible military strikes against the Syrian regime, after David Cameron announced parliament would be recalled to allow MPs to vote on what action to take.
Under pressure from Tory backbenchers and from Labour, the prime minister announced the Commons would meet on Thursday in order that MPs be given chance to sanction the use of force by Britain in response to the alleged use of chemical weapons by Bashar al-Assad against civilians.
Having met Cameron on Tuesday, Miliband said "the use of chemical weapons on innocent civilians is abhorrent and cannot be ignored".
"The Labour Party would consider supporting international action but only on the basis that it was legal, that it was specifically limited to deterring the future use of chemical weapons and that any action contemplated had clear and achievable military goals. We will be scrutinising any action contemplated on that basis," he said.
A substantial number of backbench Tory MPs are known to be sceptical about intervening in the Syrian civil war. Cameron's former Welsh secretary Cheryl Gillan said she "and many others have great doubts" about the idea. Earlier this year 81 Tory MPs, most of whom opposed intervention, wrote to the prime minister demanding the Commons be given the right to veto the use of force.
Miliband's indication that he is prepared to lend his support to a military strike greatly increases the chance that Cameron will win the vote and therefore be able to join a US led mission.
Amid fears of mission creep, Cameron said on Tuesday afternoon that any intervention in Syria would not be about the conflict itself but preventing the use of chemical weapons by any regime.
"Let me stress to people, this is not about getting involved in a Middle Eastern war or changing our stance in Syria, or going further into that conflict. It's about chemical weapons. Their use is wrong and the world should not stand idly by," he said. "It must be right to have some rules in our world and try to enforce those rules."
Nick Clegg said to "stand idly by" would be a "very dangerous precedent indeed". But the Lib Dem leader stressed he was not lending his support to any Iraq-style invasion.
"What we're not considering is regime change, trying to topple the Assad regime, trying to settle the Syrian conflict one way or another - that must be settled through a political process, not considering an open-ended military intervention with boots on the ground like we saw in Iraq," he said.
"What is being considered are measures which are legal, which are proportionate and which are specific to discouraging and sending out a clear signal that the use of chemical weapons in this day and age is totally intolerable."
Cameron and Clegg's words were echoed by White House spokesman Jay Carney, who told reporters in Washington "the actions we are contemplating are not about regime change".
Parliament was due to return from its summer break on Monday. The urgent recall suggests the prime minister is keen to gain parliamentary approval for military action that could take place before then. The debate is expected to begin at 2.30pm with the vote being held around 10pm.
Earlier today Downing Street confirmed the Ministry of Defence was drawing up "contingency plans" for the use of military force, possibly in the form of air strikes or a missile strikes, against the Syria regime.
A spokesperson for the prime minister said any response by the United Kingdom, United States and other members of the international community to the use of chemical weapons would be "something that is proportionate".
Chuck Hagel, the US defence secretary, told the BBC today that the American military was "ready to go" if president Obama decided to use force. "We have moved assets in place to be able to fulfil and comply with whatever option the president wishes to take," he said.
Were Cameron to lose the vote on Thursday it would be a serious blow to his authority. It would also likely be politically impossible for him to press ahead with a military attack in defiance of the will of parliament even though the vote would not be legally binding.