SEE ALSO: French Fisherman Survives Crocodile Attack After Punching It In The Head (PICTURES)
A New Zealand tourist spent two weeks stranded on a remote Australian island after a giant crocodile thwarted all his attempts to escape.
The man, known only as Ryan, found himself stalked by the 20-ft-long beast, preventing him from paddling the 4km back to the mainland.
Ryan had been exploring the northern coast of Western Australia near Kalumburu, New Zealand's Stuff magazine reports.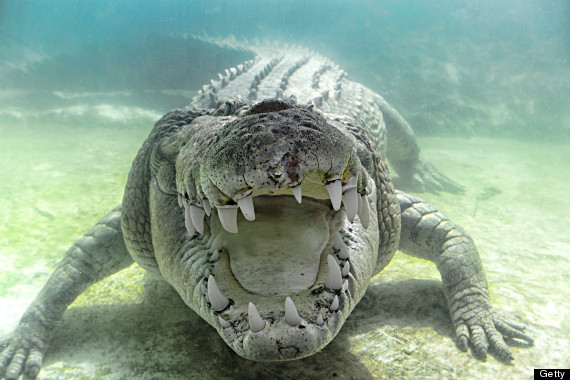 The 20ft crocodile made his presence known whenever Ryan tried to paddle back to the mainland (file picture)
He was on the remote Governor island when he realised he didn't have enough supplies, the Daily Telegraph said.
Unfortunately, every time Ryan attempted to kayak back to replenish his stocks, the saltwater reptile made his presence known, leaving the hapless Kiwi well and truly stuck.
Fisherman Don McLeod eventually came to his rescue after seeing "a flash in the scrub", he told ABC Radio.
He added: "I went across and Ryan came out looking a bit distraught. He came down the beach, he had no hat on and no shirt on.
"He was relieved and shocked, and thankful someone had come along because he was running out of options pretty quickly."
Describing the crocodile as "a monster", he added: "He is a very, very lucky man."