A man has been convicted of strangling a teenager whose boyfriend was wrongly jailed for the murder.
Shahidul Ahmed killed shop assistant Rachel Manning, 19, in December 2000, dumping her body in undergrowth at a golf course. Shahidul Ahmed was on trial for the second time over the murder
Her boyfriend Barri White was convicted of the murder in 2002 but later acquitted at a retrial in 2008.
Ahmed, 41, was put on trial after DNA evidence linking him to Miss Manning's death was discovered following his arrest for an unrelated matter in 2010.
He hit Miss Manning repeatedly with a steering lock after she was dead, causing broken bones, Luton Crown Court heard.
DNA found on the steering lock matched Bangladesh-born Ahmed after it was discovered by the road on the direct route between the spot where the body was hidden and Shahidul Ahmed's home.
Ahmed, of Chestnut Crescent, Bletchley, Buckinghamshire, sold his car eight days after Miss Manning was murdered.
Mr White, who was 20 at the time, served six years for the murder before his conviction was quashed on appeal in 2007 as a result of fresh scientific evidence.
Ahmed, who denied murder, first stood trial in January when a jury failed to return a verdict.
But, following a retrial, a jury of seven men and five women returned a unanimous guilty verdict.
Ahmed was given a life sentence with a minimum term of 17 years.
Mr White said: "I feel over the moon that justice has finally been done and really happy that Rachel's family have finally got justice and the closure they deserve."
Mr White's friend Keith Hyatt, who was cleared of murder but convicted of conspiracy to pervert the course of justice by helping to dispose of the body in 2002, also had his conviction quashed in 2007 after serving a jail sentence.
Ahmed was suspected of Ms Manning's murder after he was arrested over a sexual assault in May 2010.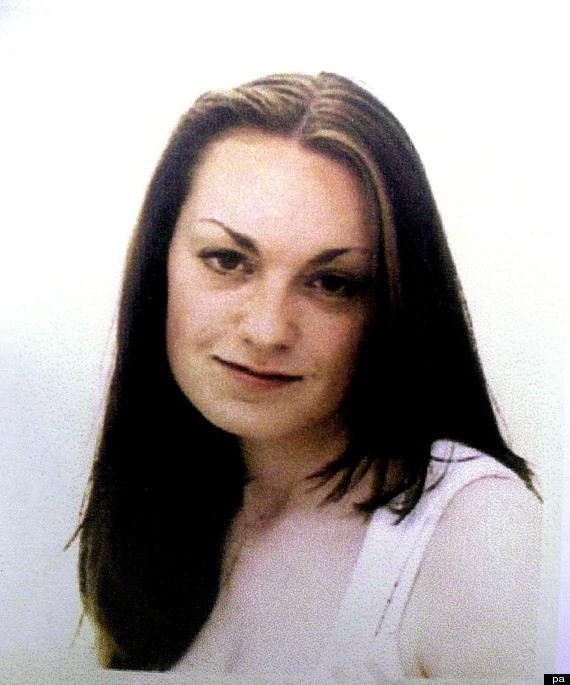 Rachel Manning was murdered after a night out at a 70s-themed fancy dress party
Thames Valley Police said a woman got into his car after a night out in Milton Keynes thinking he was a taxi driver. She escaped after being indecently assaulted and was helped by a passer-by who got the car's registration. The arrest led to a DNA match connecting Ahmed to the steering lock.
He was arrested on suspicion of Ms Manning's murder in September 2010 and charged with her murder in December 2011.
Detective Chief Superintendent Rob Mason, of Thames Valley Police said: "What is important about the verdict today is justice for Rachel and her family. I cannot praise Rachel's family enough; they have remained dignified and courageous throughout despite the unimaginable nightmare they have endured. I hope that today will give some comfort to the family after the ordeal they have been through over the past 12 years.
"This has been a long and difficult investigation which has resulted in four criminal trials. Both Barri White and Keith Hyatt gave evidence as prosecution witnesses during this trial and I would like to thank them for their assistance in helping secure this conviction."
Mr White's conviction was largely based on scientific evidence which was disputed by experts when BBC's Rough Justice programme looked into the case.
Ahmed, wearing a grey shirt and flanked by five security guards, did not give evidence during the court proceedings.
The father-of-five, who was sat with an interpreter in the dock, bowed his head as the verdict was read out, while there were cheers from the public gallery.
Mr Wilkie said Miss Manning had "much to look forward to and was relishing the challenges of life".
"Tragically at the age of 19 you, Shahidul Ahmed, snuffed all that out, driven by the same demons that led you in 2010 to conduct a sexual assault," he said.
Mr Wilkie said Mr White and Mr Hyatt "suffered the agony of being convicted and imprisoned for offences of which they were wholly innocent".
"Nothing can bring back either Rachel's life or those lost years," he added.
In Ahmed's opening trial, Ben Gumpert, prosecuting, said the victim was strangled with a soft ligature.
"There is no evidence which points to any particular motive, although it seems likely that the impulse to attack her would have been a sexual one," the barrister said.
"Whether he always intended to kill her or only did so because she was not willing to comply with his demands is unknown.''
Miss Manning had been to a 70s-themed fancy dress party with Mr White and her friends on Saturday 9 December 2000.
They went on to Chicago's nightclub and left at about 2.15am, with Mr White walking to stay at the home of a friend, Keith Hyatt.
Miss Manning walked off alone to catch a taxi.
She phoned her home in Wolverton from the phone box at 2.43am and spoke to her flatmate to say she was upset. The flatmate, Chris Gardiner, phoned her back but the call failed.
She then phoned Mr White and said she did not know where she was. They agreed to meet at a Blockbuster video store and he and Mr Hyatt would pick her up. When they arrived at 3.13am in Mr Hyatt's van she was not there.
The prosecutor said it was likely she was already dead.
Mr White went out again later on foot and called to see her at work the next day. When he heard she had not shown up he alerted the police.
Mr Gumpert said a hair was retrieved from the victim's hot pants which matched the defendant's DNA.
He said tests showed it was 99.4% likely to have come from Ahmed who came to Milton Keynes in 1989.
Ahmed, a restaurant worker, was interviewed by police in September and December 2011. He declined to answer questions but submitted written statements saying he could not explain the presence of his DNA on the steering lock.
He said he did not recognise the lock but he might have used it or owned it at some stage during the last 10 years during which he owned eight cars and bought and sold vehicles at auctions.
He told police he bought some cars with "stop locks'' but he would leave them in the boot.
Work colleagues had on occasion used his cars but he could not remember who or which cars, Ahmed said.
He added that he did not know how his hair ended up on the victim's clothing.
Mr Gumpert said reasons for disfiguring the victim could only be guessed at but it was likely Ahmed gave the body a fireman's lift, putting his head into contact with her hot pants, while he dumped her.
"The only reasonable explanation is that Shahidul Ahmed murdered Rachel Manning,'' he said.