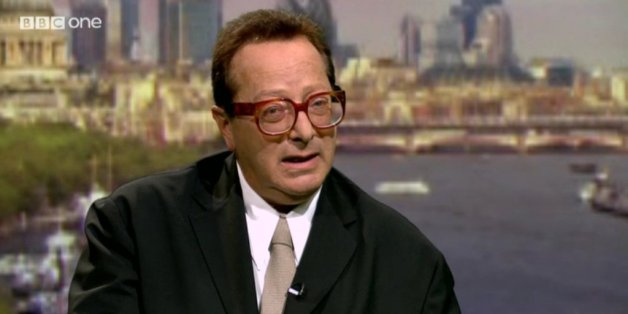 BBC
Andrew Marr has been criticised on Twitter for asking the brother of Charles Saatchi about his broken marriage to Nigella Lawson.
Maurice Saatchi was on Sunday's BBC programme talking about the challenges facing David Cameron when host Marr dropped the leftfield question.
He asked how his brother Charles was feeling after the infamous split from TV chef Lawson.
For those who don't know, the high-profile couple divorced after pictures appeared to show Saatchi holding the throat of Nigella Lawson as they sat outside a restaurant.
But Saatchi knocked back the question about his brother. "Marriage is a private place," he said, adding it was "impossible, even for best friends" to know what happens.
"There are many aspects of human life, let's consider them - persecution mania, love, sex, marriage, work. These are all areas which produce great difficulties in people, and family and marriage is certainly one of the most complex areas."
Referring to his late wife, Josephine Hart, he added: "As Iris Murdoch said to Josephine Hart on many occasions, marriage is a private place.
"What Iris Murdoch was saying or suggesting was that it's impossible for anybody, even the best friends or relatives of the people involved, cannot know what really happens between a man and a woman.
"When somebody installs CCTV in people's bedrooms, which may be the next step of our surveillance state, then we'll have the answer but until then we don't know."
Marr was then himself questioned by viewers on Twitter for giving Saatchi the opportunity to "apologise" for his brother's actions, as this thread of comments shows.