The confusion at the heart of the BBC's decision-making has been laid bare as its executives - past and present - argued over who knew what and when about massive pay-offs to senior staff.
Former director-general Mark Thompson, one of seven witnesses called by the Public Accounts Committee on Monday, was forced to deny a charge that the BBC had "lost the plot" when it agreed a pay-off of almost £1 million to his former deputy, Mark Byford.
Margaret Hodge MP, who chairs the committee, asked Thompson why Byford needed an extra payment when he was contractually due around half a million pounds, saying: "Why was £500,000, which is for most people mega bucks, not enough?"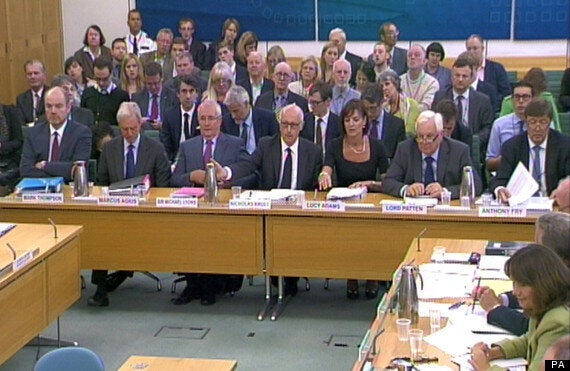 Seven executives - past and present - were being grilled
Thompson, who said he did not believe there was any "favouritism" in deciding pay-offs, said the pay-off to Byford was needed so he would remain "focused" on his job and not be distracted.
He told the committee that in his view Byford's severance package represented "value for money" and he explained that he had been under "ferocious pressure" from the Trust to make savings by cutting senior staff.
Marcus Agius, former chairman of the BBC executive board remuneration committee, also described the pay-off to Byford as "value for money".
Hodge told the former banker that the committee "were astounded you took that view", saying: "The shareholders of the BBC are the licence fee-payers and I cannot for the life of me see how you can justify these levels of redundancy payments."
Thompson said the decision for Byford to leave the BBC with a total payout of £949,000 was part of a move to axe senior executives which would give the BBC "£19 million of savings for every year into the future" and he believed he "had the full support of the BBC Trust" to order it.
Hodge said people were looking at BBC management in "dismay" and asked Thompson if the BBC had, under his management, lost the plot.
He said: "I do not think we lost the plot."
He said he had inherited a way of doing things at the broadcaster, telling MPs: "I did not loosen the financial controls in this area."
MP Stephen Barclay told Thompson he had been "lax" in delegating authority and asked why more pay-offs had not been recommended to the executive board remuneration committee.
The former director-general said the term "lax" was "too strong" and added that a "rapid aggressive change" which saw large numbers of senior managers leave presented the BBC with the "prize" of extra funding for programming.
He added: "The savings were so large, a single month's delay cost over £1 million."
In written evidence published ahead of Monday's meeting, Thompson accused BBC Trust boss Lord Patten and trustee Anthony Fry of ''fundamentally misleading'' committee members at a previous hearing.
At their last appearance before the committee, Lord Patten and Fry told MPs that members of the Trust were not always included in decision-making.
Thompson said he stood by his claim that the committee had been misled when they were told the Trust had been "kept in the dark" about severance packages.
"I don't understand why those misleading comments were made," he said.
"I don't want to impute intention to it but I believe there were damaging and unfair misleading statements made specifically on this point."
Lord Patten said he took the charge of misleading the committee "very strongly" and said his induction to the job included no references to severance pay and a media briefing he was given before the publication of the annual report said pay-offs to Byford and former marketing boss Sharon Baylay were "contractual payments".
He said: "I'm in the position in which I'm accused of having misled the committee on something I didn't know and couldn't have been expected to know."
Fry read from a letter from human resources boss Lucy Adams to Byford, telling him about his pay-off, that he said was sent a day before the trust was told about the plan in a note on 7 October 2010.
He said: "On the basis of this letter, I would probably argue Byford would have a very good case to go to an employment tribunal and say I've already had my offer from the BBC."
But Thompson told the committee the letter had been dated wrongly and was actually sent after the Trust was told about the plan.
He said no one could claim ignorance of the details of Byford's deal as it was reported days later in the press and the BBC "briefed the whole thing", adding: "It was all in the public domain."
Nicholas Kroll, director of the BBC Trust, said he was not "closely involved" in the preparation of the note on 7 October 2010 about the Byford payment.
He drew gasps from the MPs when he conceded the pay-off was "unquestionably a large figure" but a matter for the remuneration committee and not the Trust.
Hodge asked Kroll, who is paid £238,000, how much he earns and told him "the job of the Trust is to protect the licence fee-payers' interests".
She said: "There is not one person around the table who can understand why there was no challenge from you."
Committee member Chris Heaton-Harris compared the meeting to a fairground game, saying it was "the most bizarre game of whack-a-mole I've ever seen in my life, where you hit one fact down and it throws up other questions".
Turning to the witnesses, he said: "I just wonder if one of you would like to take responsibility for this?"
Lord Patten's predecessor Sir Michael Lyons said the Trust had been "damaged" and the pay-off process senior staff could have been done more "cleverly".
Hodge said the evidence suggested the governance of the BBC was "broke".
Sir Michael defended Thompson's decision to make savings by agreeing to generous severance packages, arguing that they were similar to those in the Civil Service and the private sector.
But the former Labour councillor and council chief executive agreed that the figures would "look eye-watering" to the "ordinary person in the street".
"I'm not going to sit here and pretend this was a walk in the park for the Director General or indeed for his executive board, it wasn't," he said.
He also said that "in hindsight" the Trust should have taken more of an active role in deciding what strategy the BBC would follow to make savings.
Lord Patten said he wanted more time to prove the governing structure of the BBC could work and said there was "a cultural issue" of high pay that had to be dealt with and apologised for.
He said one of his first jobs was a meeting to discuss executive pay where he made "a very simple point that the best cultural director in the world, Neil MacGregor, got £180,000 a year for running the British Museum. How many people at the BBC get paid more than that and how can we justify that?".
Hodge said: "We all around the table feel it is broke. What are you going to change?"
Lord Patten cast doubt on a proposal that communications watchdog Ofcom should regulate the corporation, saying: "I can't imagine handing the regulatory power to Ofcom and Ofcom wanting to be involved in remuneration."
In one heated exchange, Hodge told under-fire HR boss Lucy Adams: "I'm not having any more lies this afternoon."
Adams, who announced last month she was quitting the BBC, initially told MPs she had not seen a note detailing plans for pay-offs to Byford and marketing boss Sharon Baylay - but later admitted she helped to write it.
Following the suggestion that her evidence should now be taken with "a pinch of salt", dams said that such an inference was "grossly unfair" and she had been confused about what document the committee had been referring to.
Adams said she "immediately" clarified the issue, but then admitted she had not told the committee until September 2 after giving the mistaken evidence on July 10.
"It's a very funny interpretation of immediate," Hodge said.
Adams said the BBC had to lose senior staff without causing too much disruption and there were often "difficult discussions", sparking an outburst from Hodge who told her: "This attitude that the top cadre of people at the BBC faced greater difficulty when they faced redundancy rather than a receptionist or someone lower down is offensive, just offensive."
Hodge said the meeting was an "unedifying occasion which can only damage the standing and the reputation of the BBC".
She added: "At best what we've seen is incompetence, lack of central control, a failure to communicate for a broadcaster whose job is communicating.
"At worst we may have seen people covering their backs by being less than open. That is not good."
In another barbed comment, Hodge said: "You are developing a habit, Adams, of changing your evidence after the hearing."
"That's unfair, that's really unfair, madam chairman," Adams said.
The exchange came after Adams asked to see a leaked email in which she allegedly referred to a severance package as a "sweetener" before commenting further.