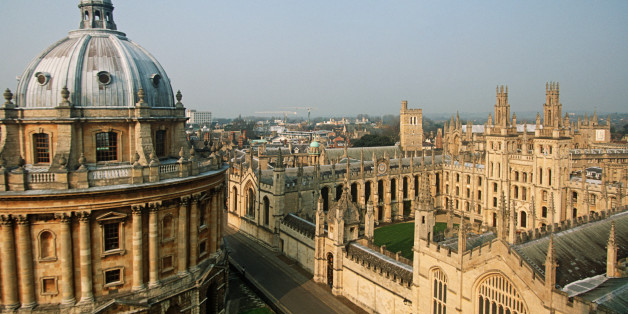 Getty
Oxford University has scrapped its unpopular wealth test for postgraduates following a law suit challenge from a student it rejected because he was "too poor".
The institution's St Hugh's College was taken to court by Damien Shannon, who accused the university of "selecting by wealth". Any student offered a postgraduate degree place at Oxford had to prove they had access to money to fund "disproportionate" living costs. Shannon's place was withdrawn after he failed to prove he could fund living as a student, with the university refusing to take into account any projected earnings.
SEE ALSO: Student Who Got Seven A*s REJECTED From Oxford University
At the time, Hazel Blears MP told the Huffington Post UK: "This requirement for post-graduate students to have immediate access to £21,000 clearly discriminates against those from poorer backgrounds. If Oxford University is series about promoting social mobility, they should abandon this exclusive rule."
Under the new rules, students will only have to prove they can meet tuition fees and living costs for one year - rather than the full term. According to the university's website, this is estimated at around £7,900 for the 2012-13 academic year. Students from outside the UK are advised to budget for at least £9,975 for their living expenses in 2013/14.
Helena Dollimore and Aled Jones, co-chairs of Oxford University's Labour Club told HuffPost UK: "We welcome the decision by the university to end the unfair wealth test on postgraduate students. This is a step forward as such a wealth test does nothing to challenge the out of touch Oxford stereotype portrayed in the media that does so much harm in putting off talented applicants.
"Living costs are the student's responsibility and should play no part in the admissions process. In any case, the living costs demanded were much higher than what most of us in Oxford live on, and graduate living costs are often supplemented by part time jobs."
In an interview with HuffPost UK, Luke James, postgraduate studies officer for the National Union of Students, expressed his concern at the state of postgraduate funding.
"Students are being forced to study abroad because for many, studying in Britain is simply not a choice, he said. "Britain is going to start haemorrhaging students unless the government does something about it."
A spokesman for Oxford university said: "The financial declaration aims to ensure that students are fully aware of the expected fees and living costs associated with their graduate study at Oxford, and is still intended to prevent students dropping out during their course, which is in the interest of both the welfare of individual students and of the institution."