Olympic hero and former 'Strictly Come Dancing' contestant Victoria Pendleton has married a former member of her training team.
The cyclist tied the knot with Scott Gardner at a country manor house in Cheshire, and even shared the day with their pets, as they took their two Dobermans, Stella and Jonty for a walk after the ceremony in their full wedding get-up.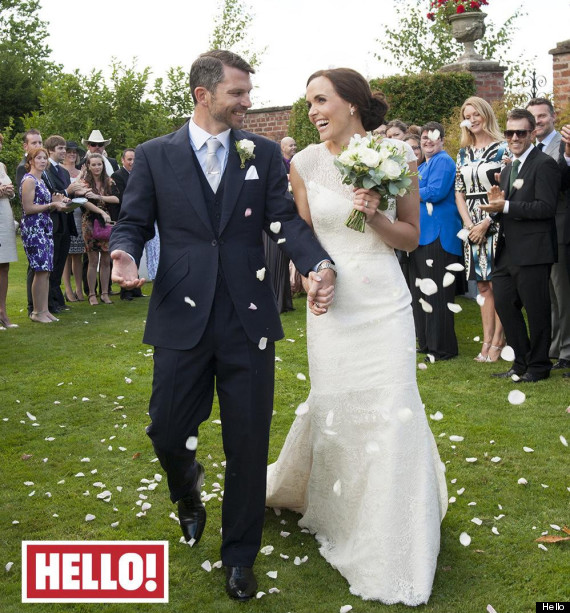 Victoria Pendelton and Scott Gardner
Looking stunning in a floor-length gown by British designer Suzanne Nevill, Victoria posed for photos of the big day in Hello! magazine.
"Seeing Scott at the top of the aisle is an image I'll keep in my mind forever," she said.
"I'm very lucky to have met him, If I hadn't have done sport, our paths would never have crossed."
The 32-year-old track star - who landed a gold and silver in London last year to go with the gold she won in Beijing - was joined by a number of Team GB team-mates including swimmer Keri-Anne Payne.
She chose the 'Strictly' house band to perform as they celebrated after the ceremony, and her fellow contestant, actor Colin Salmon, joined the group on trumpet.
Her husband Scott, who first met Victoria when he became performance scientist for Team GB cyclists, told the magazine: "The day was amazing, brilliant, beautiful.
"I was just blown away by how she looked. It was the vintage look, the shape of her body, the smile on her face," he added.
The full interview is in the new edition of Hello! magazine, on sale now.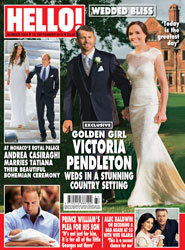 LIKE US ON FACEBOOK | FOLLOW US ON TWITTER