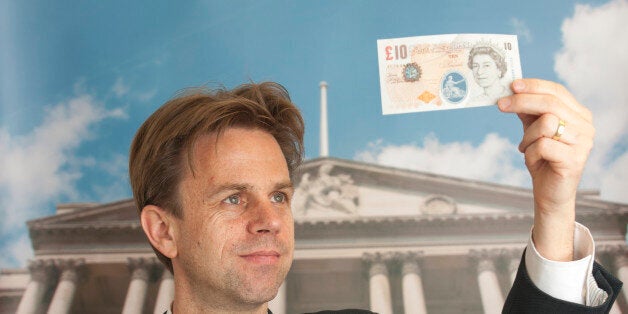 The Bank of England has thrown open the doors to the public in a consultation on whether it should start to print plastic banknotes instead of paper.
The Bank's specialist printer De La Rue currently prints all the banknotes on cotton paper. Many central banks already use plastic banknotes, including New Zealand, Romania, Mexico, Vietnam, Brazil, Chile, Indonesia, Malaysia, Mexico, Nepal, Singapore, Sri Lanka, Thailand and Zambia. The Reserve Bank of Australia was the first to issue a plastic banknote in 1988.
Polymer banknotes are also printed by the Bank of Canada, which were introduced by Mark Carney as governor before he took over at the Bank of England in July.
Carney has previously denied that the bank had taken any decision on introducing polymer notes in the UK.
Speaking in July, he said: "There is no decision on that. If we were to consider moving to polymer notes, which have some advantages, we would have a public consultation. We would announce that in due course."
"Though they are more expensive to produce, polymer notes last longer than paper notes, are more environmentally friendly and are more difficult to counterfeit.
The Bank of England has announced that it has been conducting research into the materials for printing banknotes over the last three years. Officials argue that polymer banknotes would stay cleaner for longer, be more secure and more durable than paper banknotes.
Deputy Governor of the Bank of England, Charles Bean, said: "Polymer banknotes are cleaner, more secure and more durable than paper notes. They are also cheaper and more environmentally friendly. However, the Bank of England would print notes on polymer only if we were persuaded that the public would continue to have confidence in, and be comfortable with, our notes.
The results of the consultation programme on which we are embarking will therefore form a vital part of our assessment of the merits of polymer banknotes."
The Bank is launching a series of events across the UK over the next two months to inform the public of the implications of ushering in polymer banknotes, with the consultation set to end on 15 November 2013 and the final decision to be announced in December.
If Bank officials decide to proceed with printing on polymer, this could see the first polymer notes being printed in 2016 at the earliest. Bank officials would focus on one denomination at a time, starting with the Churchill £5 note. The notes would be smaller but feature the same look.
Chris Salmon, the Bank's Chief Cashier, said: "The forthcoming consultations demonstrate the Bank's commitment to transparency in relation to banknote issues, and are aimed at enhancing awareness and understanding of polymer so that the public can feed into the Bank's decision in an informed way."
Related