Apple has unveiled the iPhone 5S, its latest flagship smartphone.
The new device features a hugely improved processor, updates to the camera, a tweaked design and a new fingerprint sensor designed to improve security.
'Touch ID' is Apple's answer to users forgetting - or refusing - to set-up passwords to protect their devices.
Using a capacitive sensor built into the 'Home' button, the phone is able to scan your finger or thumb in any direction and unlock your device - as long as you're really who you say you are.
The sensor will also let you make iTunes purchases using your fingertips - literally. And no - your fingerprints will never be backed up or stored on Apple's servers. So identity theft shouldn't be an issue.

"It's not just rampant tech for tech's sake. Every component and process has been considered and measured to make sure it's truly useful and enhances the user experience," said Apple's chief of design Sir Jony Ive.
Apple said that the iPhone 5S was the first phone with a 64-bit, desktop class processor which it claimed was twice as fast as the iPhone 5 - and 56 times as quick as the original iPhone.
"I don't think the other guys are even talking about it yet," said Apple's Phil Schiller of the new performance standard.
It comes in three colours: a black and 'space grey' edition, as well as the much-rumoured gold/white and silver/white versions.
The phone will cost $199 for 16GB (on a two year contract). The 32 GB will cost $299, the 64GB $399. Apple said it will be available to pre-order starting September 13 and will be released a week later.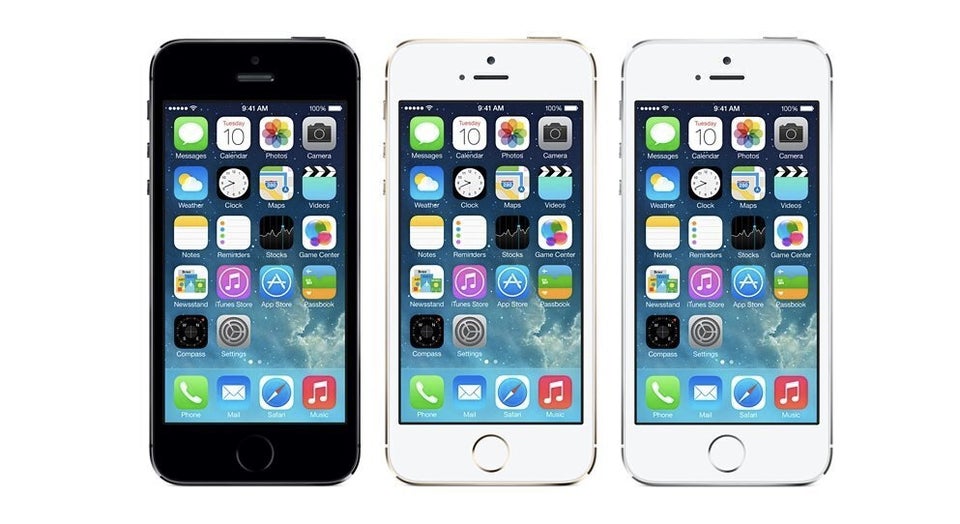 In Pictures: Apple iPhone Event
"These iPhones are packed with remarkable tech," said Tim Cook. "But we've done it in a way that makes it matter to people, making things easier. We don't just pack in feature after feature."
The key features include:
64-bit A7 processor (a 'world's first')
"2x general purpose registers, 2x floating point registers, over 1 billion transistors and 100 square mm die size" - i.e., it's fast.
A new 'M7' processor which monitors motion constantly, and "enables a new generation of health and fitness apps" including Nike's new 'Nike+ Move'.
Battery offers 10 hours 3G talk time, 250 hours standby
A new camera with a f/2.2 aperture, a 15-percent larger active sensor area, a 'True Tone' flash and new software enhancements to take better pictures
Slo-mo camera offers up to 120 FPS video capture
Other news from the event included:
iWork is now free for all new iOS devices. The suite of productivity apps includes presentation software Keynote, the desktop publishing app Pages, spreadsheet Numbers, iPhoto and iMovie.
Infinity Blade 3 from Epic Games will be released - with a 64-bit version specially made for the iPhone 5S
Apple also announced that iOS 7, its new version of the mobile operating system which powers iPads, iPhones and iPod Touch devices, will be released on 18 September, and will be free for the iPhone 4 and above, iPad 2 and above, the iPad Mini and the fifth generation iPod Touch.
It said that the OS had been fine-tuned since its initial unveiling earlier this year, and said that 700 million devices running iOS 7 will have been sold by the end of September.
Some small updates to the OS which were not previously announced include a bunch of new 'techno-inspired' ringtones.