Masterchef winner Shelina Permaloo shares some beautiful-looking halal friendly recipes, which are great for vegetarians and pescatarians too.
Egg Rougaille (serves 2 – 3)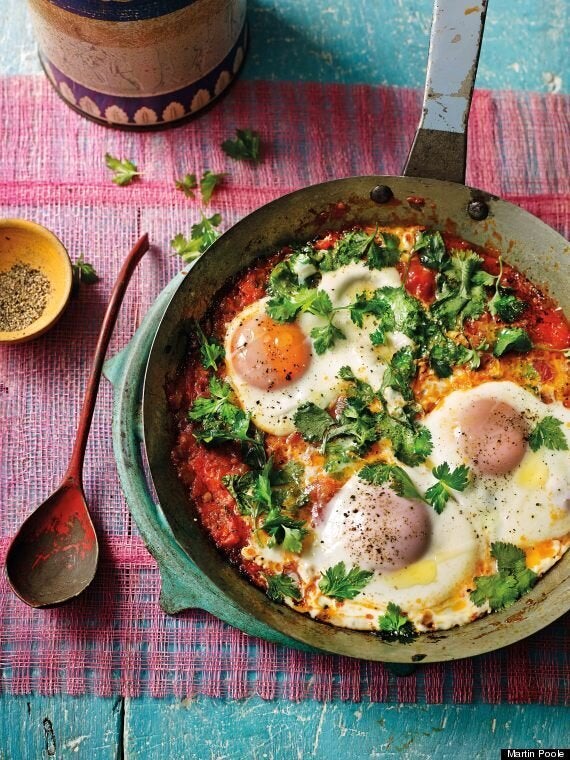 1 medium onion, finely chopped
2.5cm piece of fresh root ginger, peeled & grated
1 red bird's eye chilli, finely chopped
1 x 440g tin peeled plum tomatoes
2 tbsp. freshly chopped coriander
Freshly chopped flat – leaf parsley, to garnish
Heat the vegetable oil in a large pan with a tight fitting lid over a medium heat and fry the onion until just beginning to brown.
Add the ginger, garlic, chilli and thyme and cook for 3 – 4 minutes, stirring occasionally.
Add the tomatoes and cook for 20 – 25 minutes until the tomatoes are beginning to break down and the oil has started to rise to the top of the mixture. Season with salt, add the chopped coriander and stir.
Crack the eggs into the pan, cover and cook for 5 minutes, or until the eggs are softly poached. Garnish with the parsley and serve.
Shelina's Grilled Swordfish with Pomegranate (serves 4)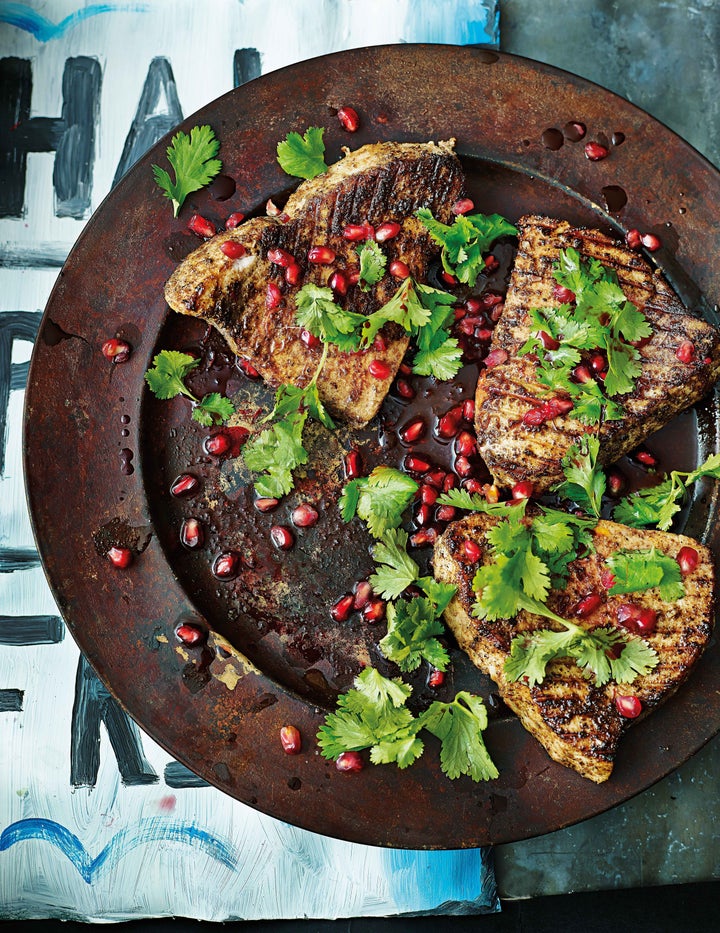 4 swordfish steaks (170g)
1 whole pomegranate, halved
Salt and freshly ground black pepper
1 tbsp. freshly chopped coriander
Mix together the paprika, cumin, coriander, sumac and vegetable oil and rub this all over the swordfish steaks. Leave to rest in the fridge. After about 30 minutes remove from the fridge and season with salt.
Place a griddle pan over a high heat; when it starts smoking add the swordfish steaks. Cooking them for around 3-4 minutes on each side, being careful not to over cook them – the fish should still be slightly pink and juicy on the inside.
Once cooked, remove from the pan, and then squeeze the pomegranate juice and seeds into the pan, along with the lime, saffron, salt, pepper and cook until the liquor starts to reduce and become syrupy on the edges of the pan. Around 2-3 minutes.
Add the coriander at the last minute and then pour straight over the steaks.
Shelina's Mango & Lime Syllabub (serves 4)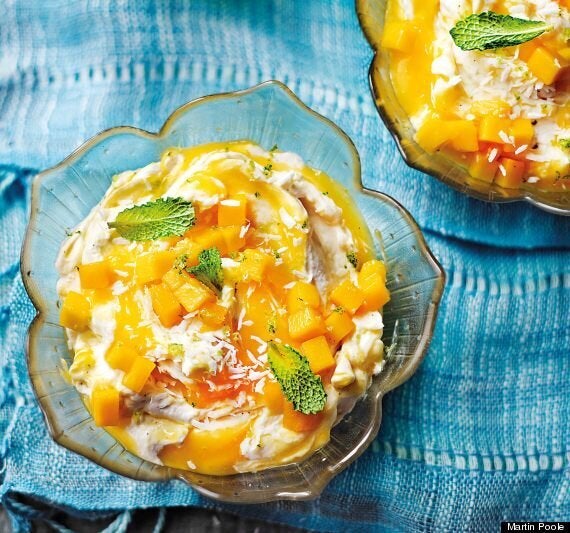 150ml Alfonso mango purée
2 Alfonso mangoes chopped into 2.5cm cubes
4 limes (juice and grated zest)
Seeds scraped from ∏ a vanilla pod
3 tbsp. unrefined icing sugar
4 ginger biscuits, crushed
Desiccated coconut to sprinkle over the top
Put the ginger biscuits in a large plastic bag (a sandwich bag is ideal) and bash vigorously with a rolling pin until you have a bag of crumbs.
Using an electric whisk, lightly whip the double cream. Add the vanilla, lime juice and zest, reserving a little for decoration. Keep whisking until it forms light peaks. Add 50ml of the mango purée and fold through for a marbled effect.
To assemble the syllabubs, divide the crumbs between four glasses. Pour over the mango purée. Spoon the cream over the top. Just before serving, sprinkle with desiccated coconut and reserved lime zest. Decorate with the mint leaves.