The first stage of the 'Can You Find It?' campaign is a cryptic arrangement of letters, hidden in which are five answers.
Anyone who can crack the code will then go on a six-week "treasure hunt" across the internet in search of a further four.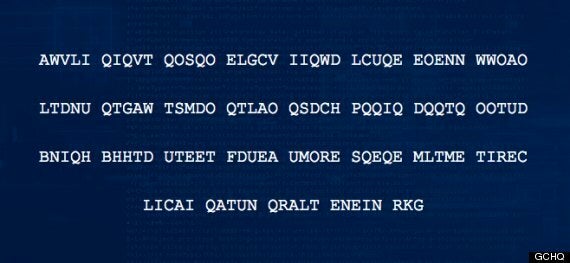 Only then will the actual lengthy and rigorous recruitment process begin.
GCHQ's Head of Resourcing, Jane Jones, said: "The 21st century is confronting us with online threats that are difficult and dangerous, so we want employees who have evolved with the ever-changing digital world and therefore have the right skills to combat these challenges.
"It's a puzzle but it's also a serious test – the jobs on offer here are vital to protecting national security."
GCHQ - Government Communication Headquarters - started life as the Government Code and Cypher School in 1919.
It came into its own during World War II when it was based at Bletchley Park.
The work of its operatives during this time cracked the German enigma machines as well spawning the birth of the modern computer, largely through the work of Alan Turing.
More recently GCHQ has drawn much criticism for its links the the US Prism programme that is alleged to have spied on individuals, organisations and governments around the world.
Even if you don't fancy working at the behest of the government, entrants could be in with a chance with winning a Google Nexus 7 or a Raspberry Pi.
Related