To celebrate National Cupcake Week, we've asked three bakers for their favourite chocolate cupcake recipes. Warning: things could get very chocolatey...
Jules Gilbert who co-runs the brilliant Butcher, Baker blog submitted this sublime Autumn cupcake recipe.
"These chocolate orange cupcakes are incredibly rich and due to the serious cocoa hit in the buttercream without being too sweet. Think of the most decadent chocolate mousse you've eaten and this buttercream is close to that. These are very much adult cupcakes, I think most children would find the intense chocolate too much.
"These cakes contain a small amount of ground almonds which helps keep the sponge moist. It also means the cake doesn't rise as much as normal sponge which leaves you with a flatter top for icing."
Chocolate Orange Cupcakes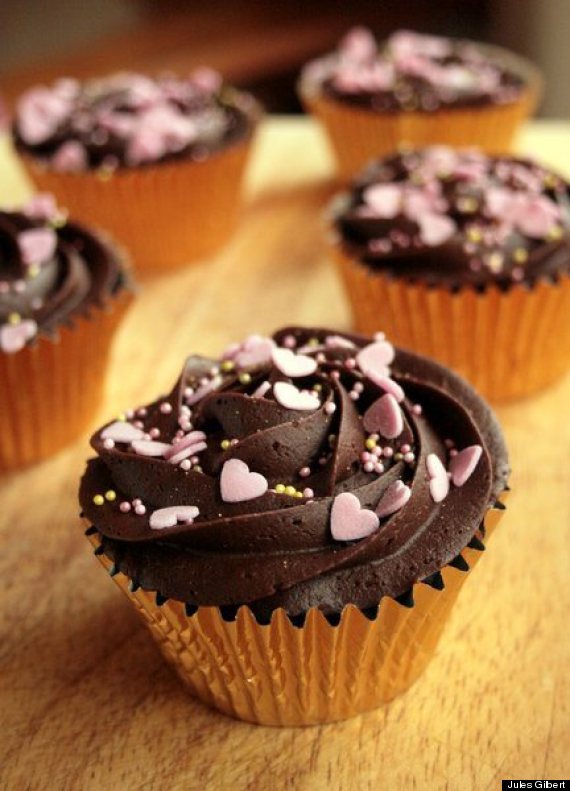 Makes: 9-12
For the cakes:
100g Stork or well softened butter
100g caster sugar
2 large eggs
50g self- raising flour
20g cocoa powder
40g ground almonds
1 tsp orange extract
2 tsp milk
For the buttercream:
250g butter
400g icing sugar
100g cocoa powder
4 tsbp milk (you may need more)
2 tsp orange extract
1) Beat together the Stork and sugar until light and fluffy.
2) Stir in the eggs one at a time. If the mixture begins to look a bit curdled add some of the flour.
3) Mix in the orange extract, flour, cocoa and milk. The mixture should now be of dropping consistency.
4) Place cupcake liners in a tin and fill until liners are 2/3 full.
5) Bake at 160C for 15 minutes or until cakes are risen and cooked through. Allow to cool on a wire rack while you make the buttercream.
6) Place the softened butter, icing sugar, orange extract, cocoa and milk in a bowl. Using an electric whisk beat the mixture until light and fluffy. Due to the cocoa the mixture can be very stiff. If this is the case add more milk 1 tbsp at a time.
7) Put the buttercream in to a piping bag with 1M tip and pipe on to the cooled cakes.
FOLLOW HUFFPOST UK LIFESTYLE ON TWITTER | LIKE OUR PAGE ON FACEBOOK
Nazima Pathan who writes for the brilliant blog Franglais Kitchen (seriously, if you've never seen it, it is unbeatable food porn) volunteered this chocolate cupcake with the unusual addition of beetroot.
Beetroot and Bitter Chocolate Cupcakes with Caramelised Hazelnuts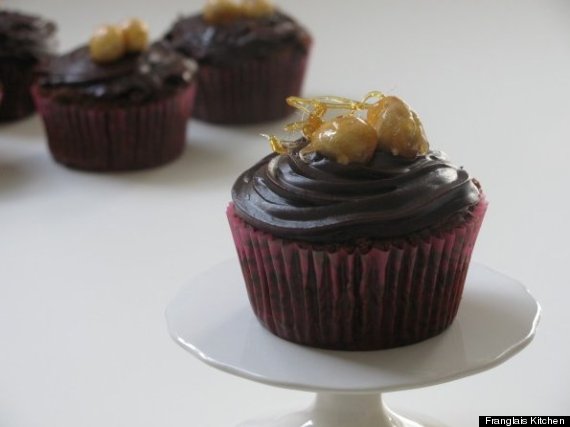 "The slightly sweet flavour of beetroot complements the dark chocolate so well that even confirmed beetroot-phobes will be won over. The frosting is delicious, it is butter based but because the butter is melted and the frosting uses muscovado sugar it tastes soft and fudgy which I kind of prefer.
"If buying ready-cooked beetroot, make sure you look for plain beetroot and not slices or whole beets pickled in vinegar. I bought raw beetroot and boiled it till cooked through."
Preparation time: 30 minutes (plus cooling)
Cooking time: 20 minutes
Makes: 10 cupcakes
175 g (6 oz) self-raising flour
1 tbsp cocoa powder
1 tsp baking powder
75 g (3 oz) dark chocolate with at least 70% cocoa solids
75 g (3 oz) unsalted butter
175 g (6 oz) dark muscovado sugar
2 large eggs
175 g (6 oz) cooked beetroot, grated or chopped to a coarse purée
Chocolate frosting
75 g (3 oz) icing sugar
25 g (1 oz) cocoa powder
40 g (11⁄2 oz) unsalted butter
50 g (2 oz) dark muscovado sugar
1) Make the cupcakes, preheat the oven to 180ºC/350ºF/gas mark 4. Line a muffin tray with 10 paper cases.
2) Sieve together the flour, cocoa and baking powder. Break up the chocolate into small pieces and place in a large bowl over a pan of simmering water. Cut up the butter and add to the chocolate with the sugar. Leave until the chocolate, butter and sugar have melted, stirring occasionally until smooth.
3) Remove the bowl to the work surface and let the melted chocolate mixture cool for a few minutes before beating in the eggs one at a time. Fold in the flour and finally the beetroot.
4) Before removing the cupcakes to a wire rack to cool completely.
5) To make the frosting, sieve the icing sugar and cocoa powder into a bowl. Cut up the butter into pieces and put in a small saucepan with the muscovado sugar and 2 tablespoons water. Heat gently until the butter and sugar melt, bring just to the boil, then remove from the heat and pour on to the icing sugar and cocoa. Whisk until smooth and then set aside to cool, stirring occasionally, until the frosting is thick enough to spread over the cupcakes.
For decoration I made caramelised hazelnuts and a bit of spun sugar:
I scaled the recipe down a bit and used 150g sugar and 50g hazelnuts.
Measure out a half cup of caster sugar and put it in a saucepan on low heat. Allow the sugar to begin to melt. Gradually add more sugar allowing it to melt, taking care not to let the sugar at the edge of the pan get too hot and turn to toffee (you want to get the sugar to a light brown syrup not let it heat through to dark brown).
When the sugar is melted, stir in the hazelnuts and then take out the hazelnuts, using a spoon to separate the nuts into small clumps of 2 or 3 nuts. Careful not to touch the sugar as it is HOT!
Any spare sugar can be used to make spun sugar type decorations. My little attempt was done by dribbling the sugar over the back of an oiled tablespoon.
FOLLOW HUFFPOST UK LIFESTYLE ON TWITTER | LIKE OUR PAGE ON FACEBOOK
Fudge brownie cupcake
Lola's Kitchen submitted this seriously addictive cupcake recipe - there's no way we could stop at one.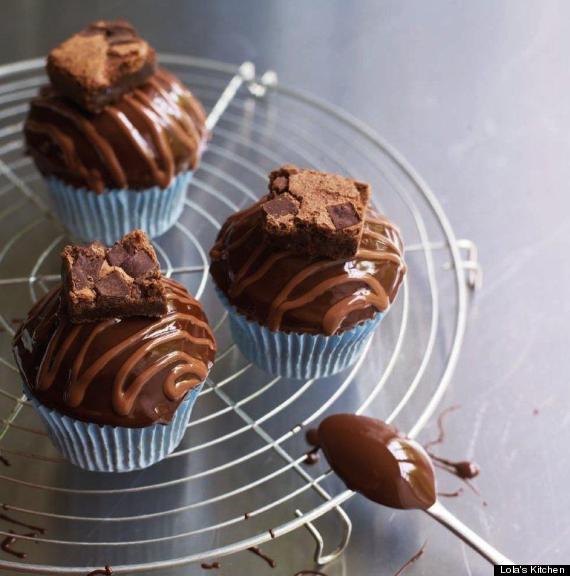 Cupcakes:
250g plain flour
1 tsp baking powder
Pinch of salt
190g dark chocolate (70% cocoa), chopped
130g soft butter, cubed
250g caster sugar
2 tsp vanilla extract
2 eggs
60g chopped nuts (optional)
60g white chocolate (optional)
Store brought milk chocolate sauce to drizzle
12 small cubes of home-made brownie (for decoration)
Muffin pan lined with 12 muffin cases
Caramel Chocolate Ganache:
100g caster sugar
¾ tsp lemon juice
225ml pouring or whipping cream
300g milk chocolate, finely chopped
1) Preheat the oven to 180C / 350F / Gas Mark 4
2) Sift together the flour, baking powder and salt in a bowl.
3) Put the chocolate and butter in a heatproof bowl over a pan of simmering water. Do not let the base of the bowl touch the water. Heat, stirring, until the chocolate melts and you have a smooth, glossy mixture.
4) Remove from the heat and beat in the sugar and vanilla with an electric hand mixer
5) Add the eggs, one at a time and beat briefly until just combined.
6) Reduce the speed to low and add the sifted dry ingredients. Beat briefly again until just combined. Stir in the chopped nuts and white chocolate, if using, then divide the mixture between the muffin cases.
7) Bake in the preheated oven for 25-30 minutes or until well risen and a skewer inserted in the middle comes out clean.
8) Remove from the oven and let cool completely on a wire rack before decorating.
While the cupcakes are cooling down make the caramel chocolate ganache
1) Put the sugar, lemon juice and 60ml water in a saucepan and stir.
2) Cook over a medium-high heat until the sugar dissolves, then cook without stirring until dark caramel in colour, about 7-10 minutes
3) Remove the pan from the heat, add the cream and stir briskly to combine - beware that the sugar syrup will be dangerously hot and will bubble and spit when you pour the cream in!
4) Add the chocolate and stir until melted and smooth. Allow to cool completely (about 1 hour), whisking occasionally.
5) Refrigerate for 1-2 hours, whisking occasionally
6) Spread the icing over the cold cupcakes using a spatula. Drizzle with chocolate sauce and top with a mini chunk of brownie.
Here's some more cupcake inspiration from HuffPost OWN: