The government has "seen the economy through its darkest hour", Treasury chief secretary Danny Alexander will declare as he urges Liberal Democrats to claim credit for the recovery.
Mr Alexander will say that although there is a "brighter future" for the country, the years of austerity will continue until at least 2020 in an effort to reduce the national debt and meet the cost of an ageing society.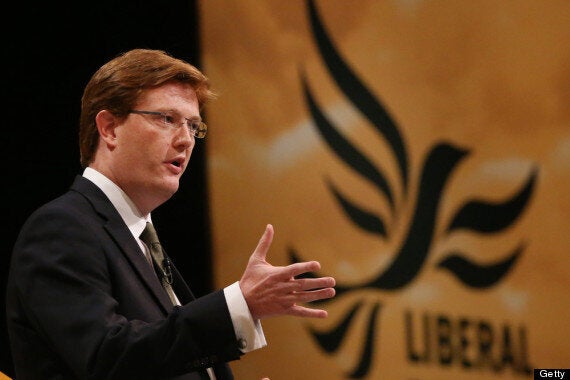 Danny Alexander is promising 'taxes on the very wealthy' in the next parliament
The Liberal Democrat Cabinet minister will also announce plans to close two loopholes used by City high-fliers as part of the government's effort to claw back £10 billion a year from "immoral" tax dodgers by 2015.
In a speech to the party's conference in Glasgow Mr Alexander will tell activists that they must not waver from their support for efforts to balance the nation's books, but should also deny George Osborne the sole credit for the improving economic picture.
He will say: "We've seen the economy through its darkest hour by ensuring that the coalition's economic plan is pragmatic.
"When the eurozone crisis was raging, when our growth forecasts were going backwards, siren voices on the right called for us to respond by cutting further and faster.
"It was Liberal Democrats who ensured the coalition remained anchored in the centre ground. That we held to our course."
He will add: "Anyone who says the better economic news is all to the credit of the Conservatives is wrong.
"The decisions we have implemented in government, the brighter future that lies ahead is only there because of us. And we should shout it from the rooftops."
"Our plan means that by the middle of the next Parliament we will have eliminated the structural deficit. But that doesn't mean that the country can then go right back to the old bad habits.
"Our nation's debt will need to be reduced, it wouldn't be fair to pass it on to future generations.
"The pressures of an ageing and growing population will have to be paid for."
Mr Alexander will say that "taxes on the very wealthy" will be one of the party's central promises for the next parliament and also take aim at the Conservatives' cherished policy of a tax break for married couples.
Setting out measures to deal with the cost of living, he will say: "We have introduced 15 hours of free childcare for all three and four year-olds, and this month introduced it for the poorest two-year-olds too.
"Next year we will legislate for tax free childcare, worth £1,200 for every eligible child.
"Unlike tax breaks for marriage, that's a fair way to help families."
Mr Alexander will announce that the government will act within weeks to close loopholes which allow wealthy individuals in the financial industries to dodge up to £100 million in tax.
He will set out plans to block schemes used by hedge fund bosses and partners in accountancy firms to disguise their incomes as company profits in order to pay a lower rate of tax.
"Thanks to our efforts, by 2015 we will be clawing back an extra £10 billion a year from tax dodgers. New investment, new specialist units, new tax rules announced from this podium are now closing the net on the immoral minority who believe paying the proper amount of tax just isn't for them.
He will announce two new measures, expected to be in force in around four weeks, aimed at people who use complex transfer pricing schemes to pay corporation tax on their incomes, dramatically cutting their tax bill.
Mr Alexander will say: "We are cutting corporation tax to encourage firms to invest. But not to give the wealthy a way to avoid the 45p income tax rate.
"So when the vast majority of people in an industry are finding ways to exploit that difference, and that industry is the preserve of the very wealthy, I have no hesitation in acting."
He will say that after a brief consultation "we will be closing the loophole that allows private equity shareholders to siphon money out of their firms while dodging the intended income tax".
Sources close to Mr Alexander said that it was "near universal" practice within the private equity industry for shareholders to lend money to their own firms at high interest rates of around 30% but, due to transfer pricing rules, when the money was returned to them they would only pay tax as if the money had been lent at the market rate.
Mr Alexander said that he will also be closing a loophole, commonly used in big accountancy firms, that allows partners in partnerships to structure their staff arrangements so that they avoid the correct amount of income tax.
Under the arrangements the partners set up a firm for tax purposes to pay them their wages rather than receiving the income directly.
The schemes allow people to pay corporation tax, set at 23% or 20% for small firms, instead of the 45% top rate of income tax.
Mr Alexander said: "It's wrong, it's unfair, and it's got to stop."
The two measures are expected to recover between £50m and £100m in tax.
Popular in the Community