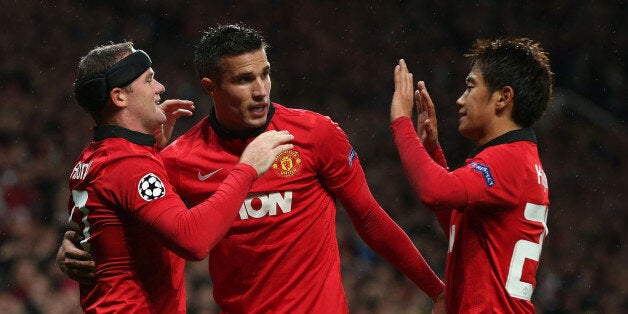 This was the night David Moyes' Manchester United finally began to take shape. Two players shy of his strongest XI, the tentative approach which had been a recurring theme in both the manager's selection and approach in the league was abandoned against Bayer Leverkusen in the Reds' 4-2 Champions League win.
On his first group stage assignment it is difficult to decide what would have pleased Moyes most. Marouane Fellaini slotted in seamlessly on his first start, the response to Leverkusen's equaliser was swift, Shinji Kagawa enjoyed an auspicious opening 45 minutes of his campaign and Wayne Rooney struck a clinical brace.
A sophisticated 4-2-3-1, with Chris Smalling, yet to play a minute since the Community Shield, the only square peg in a round hole at right-back, aided a fluid approach for the visit of the nervous North Rhine-Westphalia outfit.
No player symbolises football's fickleness more precisely than Rooney currently. His name was hollered louder by the fans who wanted to see the back of him and he acknowledged the supporters he wanted to see the back of more gratefully than on his previous two outings at Old Trafford this term. Becoming just the fourth United player to hit 200 goals helps.
He even looks fitter. One of the concerns Rooney posed Sir Alex Ferguson last season was his lack of mobility but he looks leaner and there was the odd burst of pace, a trait he has not been renowned for in nearly a decade.
Suddenly is not so clear-cut that, if given the choice, he would still want to join José Mourinho's Chelsea Mk.II. Or was it?
"I'm concentrating on my football as I have done all summer," Rooney told ITV. "The fans have been brilliant and the reception I get here is great." He straight-batted Gabriel Clarke's question when asked if he had angled for a summer move, preaching the "concentrating" line again.
While Rooney's happiness is still subject to debate, Moyes' assertion "he looks fit and lean" isn't.
Even Rooney's avarice couldn't temper a match-winning performance. Both he and Robin van Persie missed open goals but after two set-piece strikes in three games Moyes will have been relieved that that particular concern was addressed.
Kagawa's return to the starting XI was the teaser trailer of his new role. Beginning on the left, he veered inside to link up neatly with Rooney and Van Persie in the first period, affording Patrice Evra the freedom of the left wing to fulfil both left-back and left-wing obligations, a la Leighton Baines. Delightfully for Moyes, Evra's cross assisted Rooney's opener.
Antonio Valencia was perhaps the most encouraging performer. WIth the exception of four months between December 2011 and April 2012 he has experienced a wretched time of it since the Champions League final defeat to Barcelona two years ago.
On Tuesday night he showcased the old-fashioned wing play which was a feature of his impressive debut season at Old Trafford, when he was the chief architect of Rooney's goal glut. His first Champions League goal in nearly two years was deserved.
Michael Carrick is experiencing one of those slow starts to the season Ferguson used to lament but Fellaini's presence has prompted a more adventurous approach from the midfielder. His expansiveness was limited in Ferguson's latter years due to the Scot's midfield blind spot but Fellaini, the team's belated destructor, has freed up his partner.
Had David de Gea and Rio Ferdinand tuned into the same frequency the winning scoreline might have been a replica of Moyes' maiden league fixture at Swansea. Either result against Liverpool in his first League Cup tie next week will only enhance his popularity.