Two teenage brothers are being hailed as heroes after they helped rescue an elderly man from a burning house.
Luke, 16, and Colten, 17 Rybuck were walking home from a Canadian GTA 5 launch at 1.30am when they spotted smoke pouring from a window, CBC News reported.
Hearing calls for help, the brothers sprang into action, with Colten using his mobile phone to call the emergency services and Luke kicking down the door.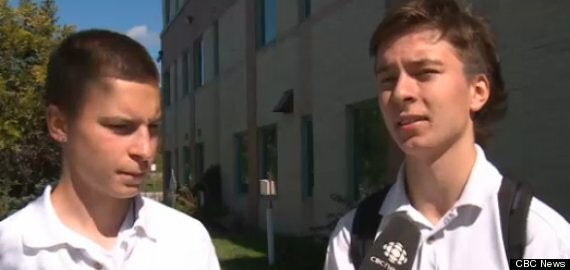 Luke and Colten Rybuck helped saved an elderly man from a burning house in Canada
Realising it could take the paramedics some time to reach the man, the brave teens entered the smoke-filled house but were forced to eventually turn back.
"We couldn't see a thing. It was burning our eyes. We couldn't breathe at all, had our shirts over our faces."
The 70-year-old man was eventually rescued and is in a stable condition in hospital.
"We never want people to get injured in a fire but our natural instinct is to assist somebody.
"They did what they could and then they realised it was too dangerous and they didn't go any further."
The boys were treated for smoke inhalation and were then allowed to go home to play their new game, Player Attack revealed.
The 23-year-old was attacked in Colindale, north London, as he made his way home from the midnight launch event with the notoriously violent game.