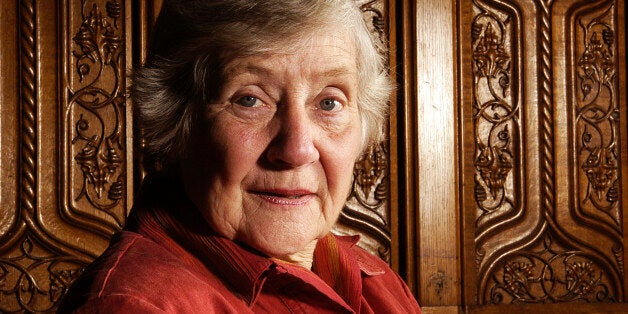 Shirley Williams has said her Lib Dem colleague Simon Hughes would not have opposed giving free school meals to schoolchildren if he had ever been a father.
The suggestion led to her being accused of being "shockingly homophobic" by a high profile Labour shadow minister.
The senior Lib Dem peer said her party's deputy leader had made a "big mistake" by having railed against the measure, now a flagship Lib Dem policy, when it was introduced by his local Labour council.
Speaking on the BBC's Question Time programme on Thursday evening, Williams said: "I think Simon is not a parent, if he was he would have never had made those statements."
"What happens is if you don't realise this extraordinary non economic fact that many parents don't claim free school meals, and you don't realise that if you're not in schools where it happens, you make remarks like Simon's done," she said.
"I'm a great believer in Simon, he is an excellent MP, I think it was big mistake, I think it's one thing now he would probably change his mind about."
Nick Clegg made the headline grabbing announcement that all children in the first three years of primary school would be given lunch for free. However following the announcement it emerged Hughes had opposed the policy when the Labour run council in his Southwark constituency had introduced a similar measure.
In a letter to the council Hughes, the Lib Dem deputy leader, said: "The Labour-run Southwark Council are wasting extraordinary amounts of money. They are spending £15 million giving free school meals, some of this going to the borough's richest families, irrespective of whether they can afford to pay for them already."
The Lib Dem leadership defended Hughes and local Lib Dem opposition on the grounds that while it was unaffordable for a local council the sums were different when it was a national policy.
William's comments appeared to echo the controversy over remarks made by Conservative MP Tim Loughton, who was reported to have said former Lib Dem children's minister was not good at her job as she did not have children.
Labour MP Chris Bryant hit out at Williams on Twitter immediately, accusing the peer of homophobia. "Shirley Williams is shockingly homophobic. She says Simon Hughes is wrong on school meals because he doesn't have children," he said.
He added: "Shirley Williams. Like Tim Loughton, how can you have a view on homosexuality unless you're homosexual?"