In an embarrassing revelation for Nigel Farage, a letter has emerged in which the Ukip leader is described as a "bully" and a "fascist" by teachers at his South London school, forcing the party boss to defend himself against the accusations.
Revealed by Channel 4 News, the letter was written in June 1981 by Chloe Deakin, an English teacher at the prestigious Dulwich College where Farage was a pupil.
In the missive, sent to the school's headmaster David Emms, Deakin implores her boss to reconsider appointing the future Ukip leader a prefect, citing a recent staff meeting in which Farage was described as a "fascist", adding that there was "considerable reaction" from Deakin's colleagues to the appointment.
The letter adds: "Another colleague, who teaches the boy, described his publicly professed racist and neo-fascist views; and he cited a particular incident in which Farage was so offensive to a boy in his set, that he had to be removed from the lesson. This master stated his view that this behaviour was precisely why the boy should not be made a prefect.
"Yet another colleague described how, at a Combined Cadet Force (CCF) camp organised by the college, Farage and others had marched through a quiet Sussex village very late at night shouting Hitler-youth songs."
On Thursday Farage said the notion of him singing Hitler Youth songs was "baloney" while rejecting allegations that he made racist remarks. When confronted by Channel 4 News, the Ukip leader admitted he'd done "some ridiculous things," adding: "Not necessarily racist things. It depends how you define it."
He added: "You've got to remember that ever since 1968 up until the last couple of years, we've not been able in this country, intelligently to discuss immigration, to discuss integration, it's all been a buried subject and that's happened through academia, it's happened through politics and the media."
Farage was told that fellow pupils remember him making racist comments, to which he replied: "Oh well I might have wound some of them up too. All through the 1970s and 80s I would counter any received wisdom on any subject quite deliberately - I wasn't alone in doing that. It was a very political school. We had people who were members of very left-wing organisations, we also had boys at school who were members of hard-right organisations."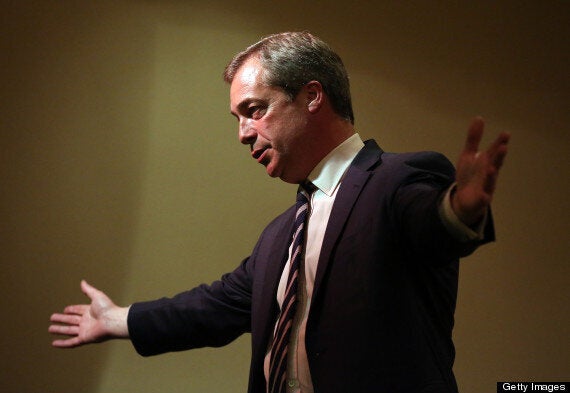 Farage has denied accusations he was a 'fascist' at school
More from the Press Association:
Bob Jope, a former English teacher who taught Farage, alleged staff made accusations that Farage voiced views that were not simply right-wing but "quite clearly racist".
Jope told Channel 4: "To some extent, you might say the accusation from some staff was that Nigel had voiced views that were not simply right wing, as nobody's going to object to a place on the spectrum, but views that were quite clearly racist, and those racist views were considered again by the staff who had heard them - some at first hand, some had heard about them - were considered to be not the views that a school should tolerate."
Farage will speak in London tomorrow at Ukip's conference. Addressing criticism for failing to deal strongly enough with party candidates found to have posted extremist views online, he will concede that being "the most independent-minded body of men and women" ever seen in British politics "presents occasional difficulties".
Farage will say: "We have some people with overactive Facebook accounts. And we have some who make public pronouncements that I would not always choose myself."
Ex-Tory donor Wheeler also denied being sexist after arguing that women are not as good as men at bridge, poker and chess in an argument against quotas for female board members.
Farage will say: "I had the most blistering row with Godfrey Bloom in a Strasbourg restaurant the other day. He wants to fight for his beliefs and I was saying that we need to stick to the big messages. I don't always agree on policy with Stuart Wheeler either.
"If the choice is between our being browbeaten through political correctness to stay within the current received wisdoms or to be a party of free debate then be in no doubt we must be the party of radical alternatives and free speech. There is however one important qualification. We oppose racism. We oppose extremism. We oppose sectarianism of the left or right."