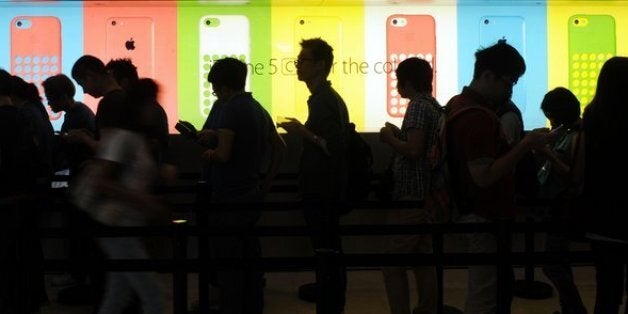 The launch of a new iPhone is practically a national tradition at this point - complete with ceremony, weird idiosyncratic rituals and a lot of shouting and waving of hands.
And today is no exception: the new iPhone 5C and 5S have launched, with hundreds of people streaming through the doors of Apple's flagship Regent Street store to get their hands on the device.
Some began queuing outside the central London shop as early as Monday afternoon to buy Apple's latest model, the futuristic 5S handset which is equipped with a fingerprint scanner.
Noah Green, 17, was the first in the queue, having only left his vigil to shower at a nearby gym since setting up camp outside the store at 4pm on Monday.
Emerging from the store 20 minutes after the doors opened to rapturous applause, Noah, clutching highly sought-after gold device, said: "It's the best feeling in the world.
"I'm the first in the United Kingdom and I have the best phone."
The teenager said he turned down offers of up to £5,000 for his prime spot in the queue, saying he would only consider giving up his place for £10,000.
Brother and sister Olly and Charlotte McIlroy, from Bexleyheath, spent more than £2,000 on four handsets for their family.
The pair, drawn to the 5S Touch ID technology which allows users to unlock their phone with the touch of a finger, said they had fun since joining the queue last night.
Charlotte, 19, said: "We thought it would be a really fun experience. We met some really nice people."
Olly, 16, added: "Our brother and mum are paying us £100 to do it."
The queue snaked around a packed Regent's Park, with several people carrying tents and energy drinks as they made their way towards the store from 8am.
Inside, Apple staff wearing blue T-shirts formed a makeshift guard of honour as the first customers made their way to the tills.
The device, which also comes in silver and ''space'' grey, is expected to fly off the shelves. Both the 5S and the 5C have been enthusiastically received by the press, and are expected to sell in large numbers.
Popular in the Community