 The parents of a British journalist held in Russia for suspected piracy following a Greenpeace protest have today issued an emotional appeal for the safe return of their son.
Freelance videographer Keiron Bryan, from Devon, is among those still being detained and today his "extremely worried" parents said the fact the activists are still not free "is a farce and quite out of proportion to their actions."
The boat and protesters were taken from the Arctic's Pechora sea, near to oil company Gazprom's platform, to the port of Murmansk.
A Russian court has refused bail to and jailed a number of the Greenpeace activists for two months.
They have not been charged, though Russian authorities are investigating charges of piracy, which carry a jail term of 10 to 15 years.
Mr Bryan's parents, Andy and Ann Bryan said none of those on board "should be subjected to this prolonged period of detention."
"They are extremely brave, caring individuals who were peacefully protesting to bring the world's attention to the dangers of drilling in that particular area and of the serious consequences it could have on that already fragile environment."
The Coast Guard had earlier arrested and held without charge two Greenpeace International activists who had scaled Gazprom's drill platform on Wednesday. The group say they encountered a "ruthless" armed response, and posted a video purporting to show the reaction.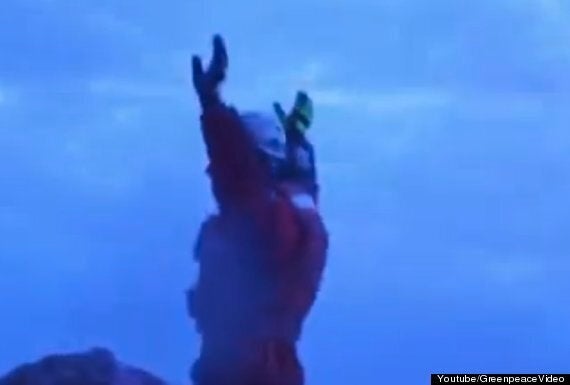 Greenpeace activists say they encountered an armed response after scaling a Gazprom oil rig
On the eve of the appearance of two UK Greenpeace activists in a court in Murmansk, Mr Bryan's parents said: "We have been, and still are, extremely worried by the events of the past week.
"Our son is a very kind, caring individual and environmental issues have always been very close to his heart. He would sympathise with the cause but he was simply there doing his job as a freelance videographer.
"We all love and miss him and just want him home safe and sound."
Greenpeace has listed those detained by Russian authorities and the decision of the court.
From Britain, activists Philip Ball and Alexandra Harris, videographer Mr Bryan and second engineer Iain Roger have been detained for two months pending a piracy investigation.
Two other British activists, Frank Hewetson and Anthony Perrett, were detained for three days pending a new hearing - which will take place tomorrow.
Greenpeace is campaigning against attempts by companies to drill for oil in the waters of the Arctic, warning that a spill would be highly environmentally damaging and extraction of more fossil fuels will add to climate change.
Gazprom's plans to start drilling from the Prirazlomnaya platform in the first quarter of 2014 raised the risk of an oil spill in an area that contains three nature reserves protected by Russian law, campaigners said.
Commenting on the decision to hold the UK nationals, John Sauven Executive Director of Greenpeace UK slammed Russia for the "total over-reaction."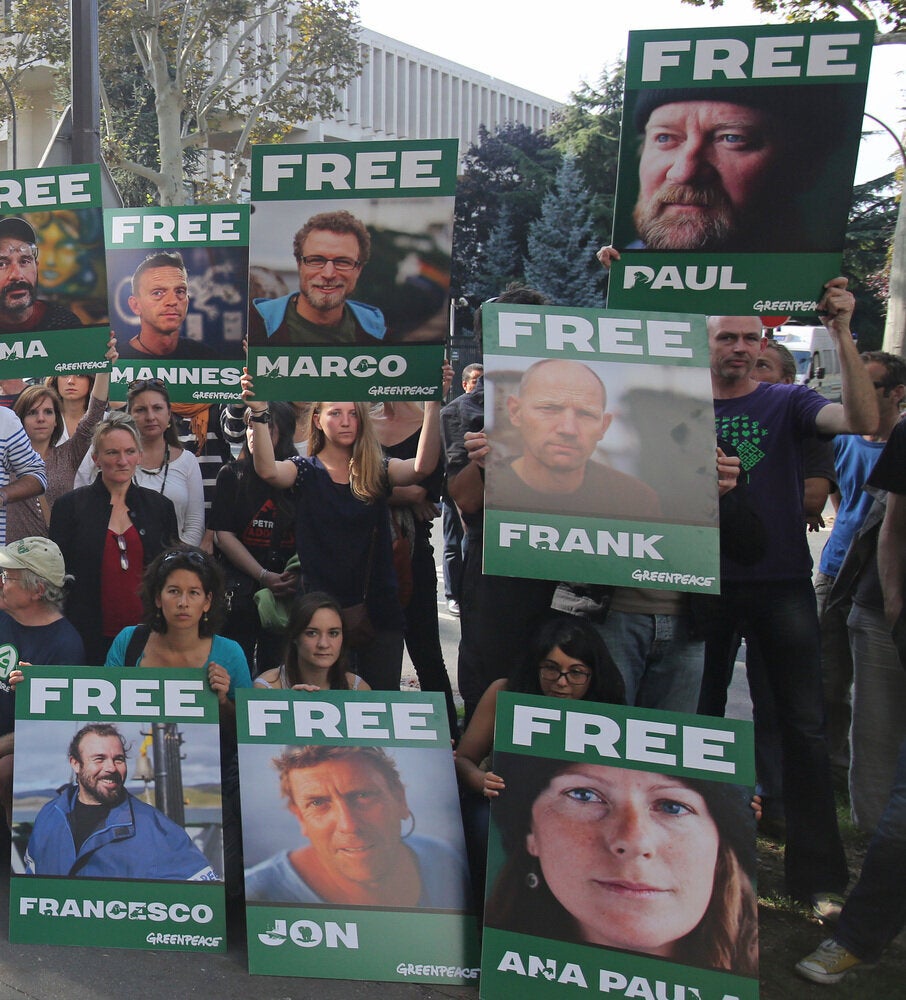 Greenpeace protests
"Greenpeace staff and supporters in the UK are deeply shocked by the severity of the Russian judge's decision to imprison four activists from the UK for two months and Frank Hewetson and Anthony Perrett for 72 hours "
"The decision is a total over-reaction to a peaceful protest that was drawing attention to the dangers of Russian oil giant Gazprom drilling in the Arctic Ocean.
"Our focus now is on supporting the families of the UK activists being held and galvanising public opinion to bring pressure on the Russian authorities to release all those detained.
"Nearly half a million people have so far written to Russian embassies around the world. It's important the Russian Government gets the message loud and clear that peaceful protest will not be silenced by intimidation or bullying tactics. "